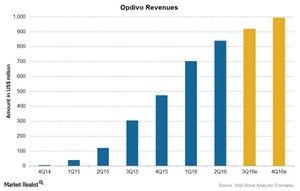 Roche Goes Up against Bristol-Myers Squibb in Oncology Drug Space
By Mike Benson

Sep. 19 2016, Updated 8:04 a.m. ET
Opdivo
Bristol-Myers Squibb's (BMY) latest drug, Opdivo, was the seventh drug to be approved by the FDA for the treatment of melanoma. Apart from melanoma, this drug is also approved for the treatment of lung cancer. Opdivo reported revenues of $840 million in 2Q16, compared to $122 million in 2Q15.
Article continues below advertisement
What Opdivo means to Bristol-Myers Squibb
Opdivois a blockbuster oncology drug that is expected to be one of Bristol-Myers Squibb's major revenue contributors in the next five years. Opdivois is already approved for melanoma, several forms of lung cancers, and renal cell carcinoma (or kidney cancer). It is also approved for expanded use for treatment of previously treated non-small cell lung cancer.
Opdivo developments in global markets
In US markets, lung cancer is an important opportunity for Bristol-Myers Squibb, as it is the first company to market drugs for squamous cell cancer. Opdivo is already used to treat non-squamous cell carcinoma.
Key developments of Opdivo include:
In July 2016, the FDA accepted Opdivo for Priority Review for the treatment of squamous cell carcinoma of the head and neck. The European Medicines Agency also validated applications submitted for use of Opdivo for the treatment of head and neck cancer.
In June 2016, the FDA granted breakthrough therapy designation to Opdivo for the treatment of urothelial carcinoma. Once approved, this will compete with Roche's (RHHBY) Tecentriq for urothelial carcinoma.
Apart from Opdivo, Yervoy is also used for the treatment of melanoma. The FDA and the European Commission have validated the Opdivo combination with Yervoy for metastatic melanoma.
Other drugs used for the treatment of melanoma are Merck's (MRK) Intron A, Sylatron, and Keytruda; Novartis's (NVS) Proleukin; GlaxoSmithKline's (GSK) Mekinist and Tafinlar; and Roche's Zelboraf.
Investors can consider the PowerShares Dynamic Large Cap Growth Portfolio ETF (PWB), which holds 3.4% of its total assets in Bristol-Myers Squibb (BMY).