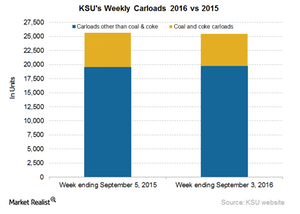 Rise in Non-Coal Volumes Limits Fall in Kansas City Southern's Carloads
Kansas City Southern's carloads
In the week ended September 3, 2016, Kansas City Southern's (KSU) total railcars fell by 0.75% compared with the corresponding period in 2015. In the reported week of 2016, KSU hauled 25,000-plus railcars, against ~26,000 railcars during the same period in 2015.
However, the carloads other than coal and coke rose by 0.9% in the reported week of 2016. Investors should note that in the carloads data reported so far in 2016, KSU's carloads have recorded the smallest fall among its Class I peers. KSU's Mexican operations help push the volumes up for the company.
Article continues below advertisement
Are coal carloads important to KSU?
In the week ended September 3, 2016, Kansas City's coal and coke railcar units fell by 5.9%. In the same week, KSU hauled ~6,000 units of coal and coke, against ~6,000 units hauled in the corresponding week in 2015.
Utility coal, other coal, and petroleum coke accounted for 7.4% of KSU's total revenues in the last year. Plus, the utility coal and petroleum coke carloads represented ~11% of total 2015 carloads. Although it may not be significant with respect to percentage, it holds importance in light of the company's relatively small scale of operations.
KSU moves coal originating from the Powder River Basin in Wyoming and coal mined in the Midwest US. The coal producers operating in that region, such as Alpha Natural Resources (ANR) and Peabody Energy (BTU), which declared bankruptcy, have anticipated weak coal shipments in 2016. Although Black Hills Corp (BKH) also operates in the same region, it doesn't produce coal commercially.
Transportation sector–specific investors can invest in the iShares US Industrials ETF (IYJ). All major US railroads make up 5.5% of the portfolio holdings of this ETF.
The advancing and declining commodities
For the week ended September 3, 2016, main commodity groups in the green zone were:
food and kindred products
stone, clay, and glass products
iron and steel scrap
motor vehicles and equipment
The major commodities in the red zone were:
grain
crushed stone, sand, and gravel
pulp, paper, and allied products
petroleum products
metals and products
You can compare this week's rail data from the previous week in North American Freight Rail Traffic for Week of September 3.
For more information on US's major railroad stocks, please visit Market Realist's Railroads page.
In the coming part, we'll take a look at Kansas City Southern's intermodal traffic.