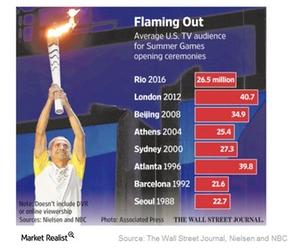 Did Comcast See Its Profits Grow from Broadcasting the Rio Olympics?
By Shirley Pelts

Updated
Comcast's profit from the Rio Olympics
The 2016 Rio Olympics was considered an important event for Comcast's (CMCSA) advertising business. A September 15 FierceCable report, citing NBCUniversal's CEO, Stephen Burke, Comcast's NBCUniversal made a $250 million profit from its coverage of the Rio Olympics. 
Addressing the Bank of America Merrill Lynch Media, Communications and Entertainment Conference on September 14, Burke noted that Comcast had ad sales of $1.2 billion for the Rio Olympics—a 20% increase over the London Olympics.
Article continues below advertisement
According to an August 2016 Wall Street Journal report, this news bodes well for Comcast. The report cited Nielsen data indicating that the 2016 Rio Olympics's opening ceremony had a viewership of 26.5 million on NBC. The report added that there was a 35% decline in viewership for the Rio Olympics from the 40.7 million viewers for the 2012 London Olympics's opening ceremony.
Advertising and the Rio Olympics
During Comcast's (CMCSA) fiscal 2Q16 earnings call, Burke stated, "We make money a lot of different ways in the Olympics. We have national advertising which is what I was just referring to. We also have a lot of advertising in our own stations. We get paid an affiliate fee by cable and satellite and telco operators and then we have a very big digital business."
Burke added that Comcast earned ~$120 million in revenues from the London Olympics, and that it expects to earn more from the Rio Olympics.