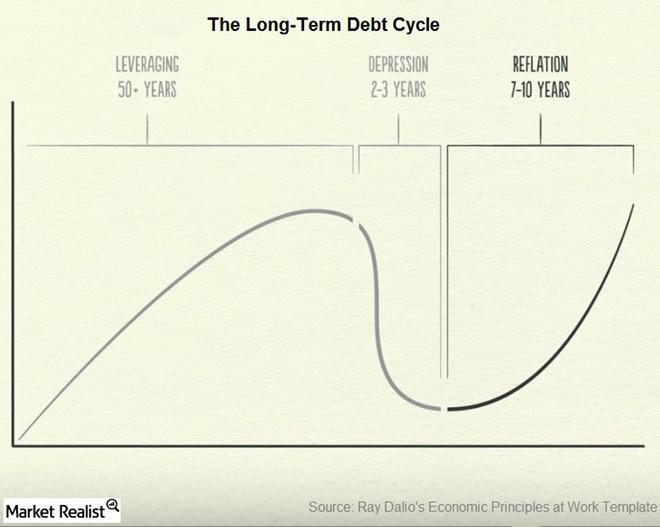 Ray Dalio to Bond Investors: We're There!
By Surbhi Jain

Nov. 22 2019, Updated 6:40 a.m. ET
Are we there yet?
In a recent appearance at the Delivering Alpha conference, Ray Dalio commented on the amount and the nature of debt in the global (VTI) (ACWI) economy.
According to Dalio, "there's only so much you can squeeze out of a debt cycle," and the economy seems to be maxing out on this limit, implying that we are at the end of the long-term debt cycle. Back in April, Dalio suggested that the Fed study the long-term debt cycle.
Governments around the world have been issuing more and more debt to fund their fiscal deficits and to circulate more money into their respective economies through quantitative easing measures.
However, the power of lower interest rates in boosting asset prices has weakened, and the subsequent rise in the global debt pile is now ringing warnings bells. Monetary policy has lost its efficacy, and aggregate debt (AGG) levels are peaking.
Article continues below advertisement
Are we at the end of the long-term debt cycle?
According to Ray Dalio, most of the developed world is at or near the end of the long-term debt cycle. Japan is one step ahead of Europe, Europe (FEZ) is two steps ahead of the US (SPY) (QQQ), and the United States is probably two steps ahead of China in terms of its limited ability to stimulate growth, according to Dalio.
The world will soon start adjusting to a lower growth rate than what it's been used to.