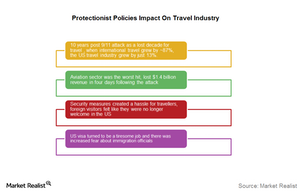 Protectionist Policies Impacted the Travel and Tourism Industry
By Ally Schmidt

Updated
Trump's protectionist policy
Most of Trump's policies are protectionist. A few that we discussed previously were anti-immigration, a Muslim ban, and H1B and J1 visa restrictions.
To understand what kind of impact such policies could have on the travel and tourism industry, you need to look at the travel industry's performance after 9/11 when the US government adopted a fortress mentality.
Article continues below advertisement
Travel after
The US Travel Association refers to the ten years after the 9/11 attacks as a lost decade for travel. At a time when international travel grew by ~87%, the US travel industry grew by 13%. The association estimates that there were 68 million travelers lost with an estimated $606 billion in travel spending and 467,000 lost jobs.
The aviation sector was hit the worst. It wasn't surprising since the attacks used airplanes. Airlines lost $1.4 billion in revenue in the four days after the attack while the aviation system was shut down.
Why was impact so drastic?
Security measures created a hassle for travelers. Travelers were randomly searched, all bags were screened, surveillance was increased, and a new permit system was introduced. It meant that people preferred other modes of transportation for short trips. In fact, people flying less than 250 miles fell more than 45%.
Foreign visitors felt like they were no longer welcome in the US. Procuring a US visa turned into a tiresome job. Also, there was increased fear about immigration officials. Coming to the US was a very unwelcoming experience for travelers.
Although it's hard to separate the impact of the terrorist attack from other factors like the rise in fuel costs, low airfares, and political unrest in some parts of the world, the travel industry suffered longer than the rest of the economy. In fact, the US GDP rose by 1% in 2001—backed by 2.7% growth in 4Q01.
Despite these problems, analysts continued to rate some travel stocks favorably.
Remember, investors can get exposure to online travel agents like Priceline (PCLN), Expedia (EXPE), TripAdvisor (TRIP), and Ctrip (CTRP) by investing in the Consumer Discretionary Select Sector SPDR Fund (XLY).