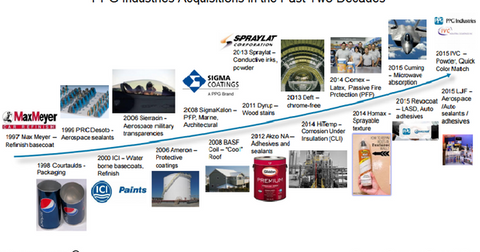 How PPG Stepped Up to Become a Paint and Coatings Major
By Peter Neil

Updated
PPG's business expansion
In this part of the series, we'll see how PPG has diversified its business into various segments since its establishment. Its diversification took place mainly through acquisitions and organic growth through innovation.
The company, which began as a flat glass manufacturer, expanded rapidly through new facilities and acquisitions. The first diversification took place in 1899 when it started its alkali plant in Barberton, Ohio. It supplied raw materials for glassmaking, which laid the foundation for its chemicals business. After one year, PPG stepped into the coatings business by acquiring an interest in Patton Paint Company.
Article continues below advertisement
PPG continued its business expansion and entered into the aerospace sector by delivering the first aircraft window for the Ford tri-motor. Then it developed Solex, a heat-absorbing glass, and introduced tempered glass that's several times stronger and more shatter-resistant than other plate glass. It was successfully used in aircraft windows.
During World War II, PPG further diversified its product mix by developing synthetic resins and then expanding its business to military usage. In the early 1940s, PPG introduced CR-39 used in the manufacture of eyeglass lenses. The first commercial use of CR-39 was for building plastic fuel tanks for the Boeing (BA) B-17 bomber aircraft.
PPG's expansion after World War II
After World War II, the automobile industry and the construction sector witnessed a boom. PPG expanded its business into the automotive and architectural sectors and introduced lead-free paints. The company revolutionized the auto industry with its electrodeposition coating process that provided increased corrosion protection.
PPG further diversified its business with the introduction of Teslin substrate, a waterproof synthetic printing material that also withstood extreme temperatures. Teslin is widely used for passports, photo IDs (identifications), maps, menus, door hangers, flash cards, and more.
After 1989, PPG acquired many companies and expanded rapidly in the automotive, industrial, aerospace, and packaging coatings markets around the world. The above chart shows the list of companies that PPG has acquired in the past two decades. Among them, the most important acquisition is SigmaKalon for 2.2 billion euros in 2008. That paved the way for PPG in Europe in the architectural sector.
PPG also acquired AkzoNobel's North American architectural coatings business. This acquisition made PPG the largest coatings company in the world ahead of Sherwin-Williams (SHW).
You can get exposure to PPG Industries indirectly by investing in ETFs such as the SPDR S&P 500 ETF (SPY) and the Materials Select Sector SPDR ETF (XLB), which have weights of 0.15% and 5.0%, respectively, in PPG as of August 22, 2016.
In the next part, we'll look into PPG's stock performance since the subprime crisis.