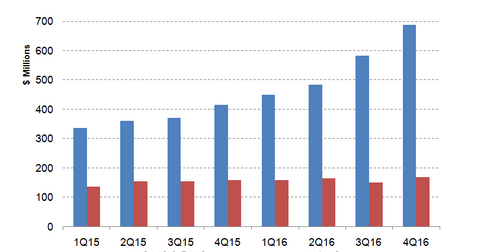 Why Oracle Has Such Tough Competition in the Cloud Space
By Anne Shields

Updated
Oracle's expectations
Previously in this series, we discussed how Oracle's (ORCL) recent acquisition of LogFire, in addition to other recent acquisitions, should improve the company's prospects in the cloud space. In its fiscal 4Q16 earnings release, Oracle said that strong cloud bookings in fiscal 4Q16 enabled it to raise its cloud revenue guidance. The company now expects growth of 65% or higher in its cloud SaaS (software-as-a-service) and PaaS (platform-as-a-service) space in fiscal 2017 in constant currency terms. Oracle expects 75%–80% growth in its SaaS and PaaS revenue in fiscal 1Q17.
In fiscal 1Q17, Oracle expects 2%–5% YoY (year-over-year) growth in constant currency terms in overall revenue. It expects its EPS (earnings per share) to be in the $0.56–$0.60 range. Analysts expect 2% dollar-based revenue growth and EPS of $0.59 for Oracle in fiscal 1Q17.

Article continues below advertisement
Salesforce appears to be winning
Never one to leave Workday (WDAY) out of the discussion, Oracle CEO Larry Ellison stated: "Oracle has nearly 2,600 Fusion ERP customers in the Oracle Public Cloud—that's ten times more cloud ERP customers than Workday." Indirectly bringing salesforce.com (CRM), which aims to record $10 billion revenue by 2018, into the discussion, he added: "That gives us a fighting chance to be the first cloud company to reach $10 billion in SaaS and PaaS revenue."
Never the one to keep quiet—especially with its double-digit revenue growth story and improvement in guidance with each passing quarter—salesforce.com stated: "one of the reasons that we are doing so well is because Oracle and SAP are doing so poorly in the cloud."
Although Salesforce may not have made it into the top five with Amazon.com (AMZN), Microsoft (MSFT), IBM (IBM), and Google (GOOG) (GOOGL) in the cloud space, it is a player many companies would go to for their SaaS (software-as-a-service) requirements.
Meanwhile, while Oracle is making significant progress in the cloud, its progress has been slower than the growth in overall cloud space, which explains Salesforce's suggestion that Oracle is losing market share to bigger players.