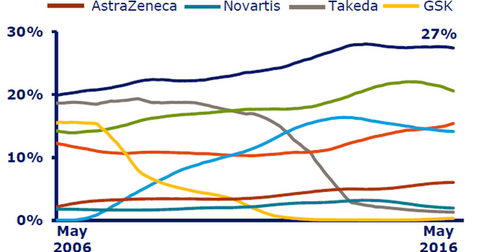 Novo Nordisk Is Number One Player in Diabetes Care Market in 2016
By Margaret Patrick

Sep. 30 2016, Published 2:56 p.m. ET
Diabetes care market
With 27% of the market share, Novo Nordisk (NVO) currently occupies the number one position in the global diabetes care market. According to IMS MAT May 2016, this market has grown at a robust compounded average growth rate (or CAGR) of 17.4% from May 2011 to May 2016, and at 15.1% from May 2006 to May 2016. IMS Monthly MAT May 2016 has calculated the CAGR for the injectables segment of the diabetes care market, which includes glucagon-like peptide-1 (or GLP-1) analogue therapies, from May 2006 to May 2016 to be approximately 19.7%, the highest in the diabetes care market. The oral anti-diabetics market (or OAD) has grown at CAGR of 10.3%, while the insulin market has increased at a CAGR of 18.2% from May 2006 to May 2016. These statistics underline the strong growth trend in the diabetes care market and highlight the scale of opportunity available for Novo Nordisk.
If Novo Nordisk can capitalize on this opportunity, it could boost the company's share prices as well as those of the Vanguard FTSE All-World ex-US ETF (VEU). Novo Nordisk makes up about 0.34% of VEU's total portfolio holdings.
Article continues below advertisement
Unexplored potential
According to Novo Nordisk's investor presentation, only 50% of the total diabetes patients in the world have actually been diagnosed. Of those diagnosed, only half get access to care, while 50% of these receive adequate care. Finally, only half of those receiving decent care succeed in controlling their disease. This is indicative of the unexplored potential of the diabetes care market. With a strong presence across all types of therapies as well as a robust research and development (or R&D) pipeline, Novo Nordisk is well placed to benefit from this opportunity.
In the next article, we'll explore Novo Nordisk's leadership in the global insulin market in 2016.