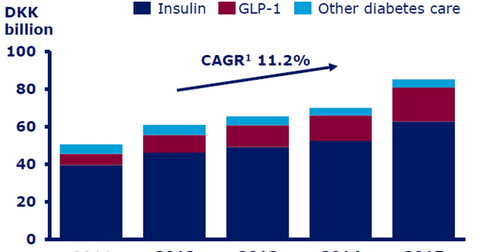 Why Novo Nordisk Expects Double-Digit Growth in Diabetes Care in 2016
By Margaret Patrick

Sep. 30 2016, Updated 8:05 a.m. ET
Diabetes care
Continuing with historical growth trend, Novo Nordisk (NVO) expects solid double-digit growth in its diabetes care franchise in 2016.
The graph below shows that from 2011 to 2015, Novo Nordisk's Diabetes Care revenues have grown mainly due to strong sales of the company's insulin and Glucagon-like peptide-1 (or GLP-1) drugs.
Increases in sales volumes, its focus on market share, and its switch to drugs that offer higher value are expected to become the key growth drivers for the company's Diabetes Care segment going forward. These moves will likely enable Novo Nordisk to pose strong competition to other diabetes players such as GlaxoSmithKline (GSK), Sanofi (SNY), and Eli Lilly (LLY).
Article continues below advertisement
Growth in sales volumes
It has been projected that by 2040, diabetes will reach pandemic proportions across the world. Also, with increasing obesity and other lifestyle problems, many diabetes patients will likely witness an escalation of the disease. Novo Nordisk expects that this will prove to be a growth opportunity in diabetes care and that many of the patients with severe diabetes will have to switch from oral anti-diabetic drugs to advanced therapies.
Growing market share
Novo Nordisk's strong R&D (research and development) pipeline in the diabetes care space is expected to translate into multiple product launches in future years, and these launches are expected to boost the company's share in the US market.
Enhanced value
With Victoza in its portfolio, Novo Nordisk is a leading player in the GLP-1 segment. The company's new generation insulin drug, Tresiba, has also witnessed strong demand in US markets after its approval by the FDA (US Food and Drug Administration) on September 25, 2015. Another new generation insulin drug, Xultophy, has already being launched in Europe and is awaiting FDA approval in the US.
Novo Nordisk is currently researching GLP-1 agonist, a semaglutide injectable therapy for diabetes, and expects it to surpass Victoza in efficacy and safety profile. The company is also exploring the oral formulation of a semaglutide, which may result in strong patient demand due to ease of use over injectable drugs.
Notably, the Vanguard FTSE All-World ex-US ETF (VEU) has about 0.34% of its total portfolio holdings in NVO.
Now let's explore the opportunity available for Novo Nordisk in the global insulin market in 2016.