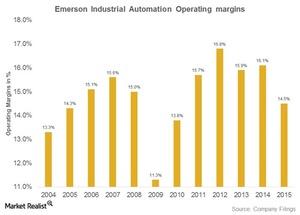 Not Much to Brag About for Emerson's Industrial Automation Unit
By Shannon Black

Updated
Emerson Industrial Automation product profile
In its Industrial Automation segment, Emerson Electric (EMR) provides equipment and technology for power generation, electricity distribution, and material joining. Some of these products are gas- and diesel-powered generators, electrical distribution products such as cable fittings, enclosures and controls, and material joining devices such as welding equipment and systems for hot plates. These products are used in several end markets such as the automotive (FSAVX), petrochemical, and the medical device (IHI) industries.
Article continues below advertisement
Revenues and margins of Emerson Industrial Automation
Revenues for Emerson's Industrial Automation segment have fallen from $5.3 billion in 2011 to $4.1 billion in 2015. A large portion of this fall took place in 2015 due to slowing industrial (XLI) activity around the globe. Operating margins in the Industrial Automation segment are among the lowest when compared to other Emerson units. They've varied from 14.5% to 16.8% from 2011 to 2015. Operating margins in 2015 and the first three quarters of 2016 were 14.5% and 13.3%, respectively.
Does the Industrial Automation segment have a competitive advantage?
Emerson's competitive advantage in its Industrial Automation segment stems mainly from the benefits of scale. Otherwise, the products in the segment are characterized by low technology. There's always more pressure on pricing when it comes to products with low technology. These factors are reflected in the margins within the segment. So because of the commodity-like, undifferentiated nature of the products, it's difficult to ascribe a competitive advantage to this segment.
If you're interested in trading in dividend-based ETFs, you can check out the SPDR S&P Dividend ETF (SDY). Major holdings of SDY are HCP (HCP) with a weight of 2.7%, AT&T (T) with a weight of 1.8%, and Caterpillar (CAT) with a weight of 1.7%.