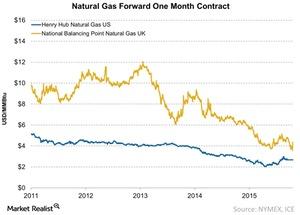 A Look at Henry Hub to See How Natural Gas Traded Last Week
By Adam Jones

Updated
Natural gas prices
Natural gas prices at the Henry Hub, where natural gas is heavily traded in the US (MXI), rose in the week ended September 2. Natural gas prices form about 65%–75% of prices of nitrogen fertilizers and directly or indirectly impact the prices for nitrogen fertilizer.
Article continues below advertisement
Spot and forward prices
Weekly average spot natural gas prices at the Henry Hub rose by as much as 4.9% last week to an average of $2.90 per MMBtu (million British thermal units) from $2.80 per MMBtu. However, the forward one-month contract price at the Henry Hub traded sideways at $2.70 per MMBtu in the previous week.
In the UK, forward one-month contract prices at the NBP (National Balancing Point) rose by 2.1% to $3.00 per MMBtu compared to the previous week. Natural gas is heavily traded at NBP in the UK similar to the Henry Hub in the US.
Year-over-year, natural gas forward contract prices at the Henry Hub has fallen by 8% and at NBP, they have fallen by 36%.
Low natural gas prices help lower the costs for fertilizer producers such as CF Industries (CF), Agrium (AGU), Terra Nitrogen (TNH), and PotashCorp (POT). Lower prices also invite increased competition. According to CF Industries, a $1.00 change per MMBtu in natural gas could change the costs of production for ammonia and granular urea by $32.00 and $22.00, respectively.
Natural gas price forecast
The U.S. Energy Information Administration (or EIA) maintained its 2016 forecast for average natural gas prices at the Henry Hub at ~$2.41 per MMBtu.
For 2017, the EIA maintained its forecast of $2.95 per MMBtu. In 2015, the average price of natural gas at the Henry Hub stood at $2.63 per MMBtu.
In the next part of this series, we'll take a look at coal prices. Coal is an alternative input material for nitrogen fertilizer production.