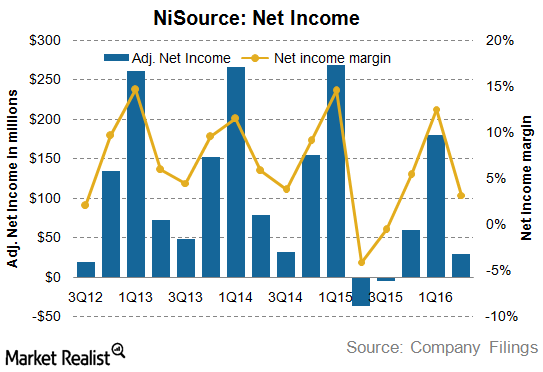 NiSource's Pipeline Spin-Off May Be a Bane in the Short Term
NiSource: Net income
NiSource's (NI) adjusted EPS (earnings per share) grew by 8%–10% historically because its pipeline segment was growing at a double-digit pace. However, as its pipeline business is now separated, the EPS growth rate is expected to be halved, to 4%–6%, in the coming years. The pipeline segment used to contribute 40% of NiSource's consolidated earnings. Now, its gas operations generate 65% of the total earnings and its electric operations generate 35%. Its gas distribution operations span six states and its electric business is primarily in Indiana.
NiSource's management raised the adjusted earnings guidance from $1 to $1.10 per share to $1.05 to $1.10 per share, expecting favorable rate case results later in 2016. The midpoint of the amended guidance is nearly a 15% gain from the 2015 EPS.
Article continues below advertisement
Regulatory environment
NiSource generally enjoys a healthy regulatory environment, which promotes faster rate recovery. Annually, it generally files rate cases, examined on forward test years, with Pennsylvania regulators. This facilitates more efficient recovery than the general practice of considering historical test years, which is followed by many US states. NiSource's investments into the modernization of its gas distribution infrastructure are recovered through automatic mechanisms that don't usually require rate cases.
Rate base
Following the spin-off of NiSource's pipeline business, its utility (XLU)(IDU) rate base is valued at nearly $8 billion. The company is targeting a $10 billion rate base, combining its gas and electric infrastructures through active investments over the next several years. NiSource's earnings growth is likely to be driven by its capital investments, which will ultimately improve its rate base.