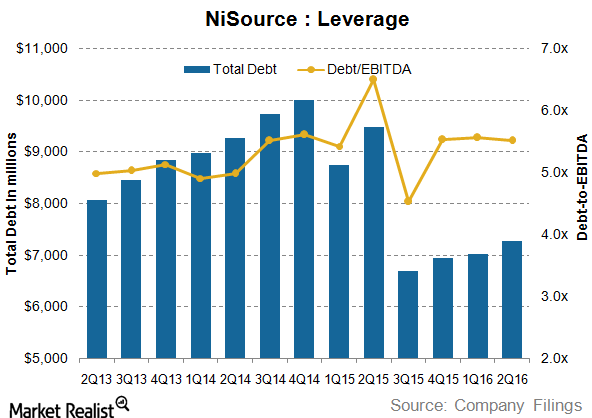 How Does NiSource's Credit Profile Compare?
By Vineet Kulkarni

Sep. 12 2016, Updated 8:04 a.m. ET
Debt profile of NiSource
At the end of the second quarter of 2016, NiSource (NI) had a total debt of $7.3 billion. It has a debt-to-equity ratio of 1.9x, and its debt-to-market capitalization ratio stands at 0.9x. The fall in the total debt from 3Q15 was due to the separation of its pipeline business. NiSource's significant leverage is expected to increase further given its extensive capital investments in the next few years.
Article continues below advertisement
Leverage
As of June 30, 2016, NiSource's debt-to-EBITDA (earnings before interest, tax, depreciation, and amortization) ratio was 5.5x. The debt-to-EBITDA ratio shows how many years it will take a company to repay its debt based on EBITDA. As utilities are asset-rich businesses with heavy debt, leverage is an important metric for analyzing them.
DTE Energy's debt-to-EBITDA ratio is 4.5x, lower than NiSource's. Eversource Energy's (ES) ratio stands at 4.3x.
The debt-to-asset ratio represents the portion of a company's assets that are financed by debt. This metric also assesses a company's financial risk. Notably, NiSource has a debt-to-asset ratio of 0.4x. In comparison, DTE Energy and Eversource Energy both have a debt-to-asset ratio of 0.3x.
Credit rating
NiSource's low risk and geographically diversified gas and electric operations bode well for its credit rating. Currently, Standard & Poor's has given NiSource a rating of "BBB+" and has a stable outlook. As for peers, DTE Energy has a stable outlook and a rating of "BBB+" and Eversource Energy has a positive outlook and a credit rating of "A."