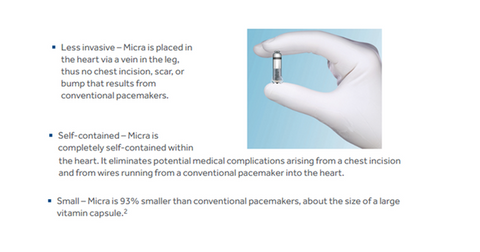 New Long-Term Data Reaffirm the Benefits of Medtronic's Micra TPS
By Sarah Collins

Updated
Micra TPS
Medtronic's (MDT) Micra TPS (Transcatheter Pacing System) was approved by the FDA on April 6, 2016, and it was approved in Europe in April 2015. It's the smallest, first-of-its-kind leadless pacemaker in the market. It's implanted into the right ventricle minimally invasively through a catheter and doesn't require surgery.
The device is approved to be used for patients suffering from heart conditions such as AF (atrial fibrillation) and bradycardia-tachycardia syndrome.
On August 28, 2016, Medtronic posted its new long-term safety data for Micra TPS. The data confirmed the device's high level of safety.
Article continues below advertisement
New data findings
Around 96% of patients were found to have no major complications with the device after around a year of follow-ups. All patient subgroups reported that the Micra TPS registered around a 50% reduced risk to major complications in comparison to conventional pacing systems.
Hospitalization risk was found to be reduced by around 47%, whereas the risk of system replacement, removal, or repositioning was found to be reduced by 82%. The study was done with a target population of 644 patients over a one-year period. The projected average longevity of the device was recorded to be more than 12 years.
Thus, Micra TPS provides a cost-effective treatment option for hospitals aiming at reducing their total cost-of-care business models, thereby providing value to customers. St. Jude's (STJ) Nanostim is Micra's competitor, but it hasn't yet been approved by the FDA. St. Jude, however, is expected to be acquired by Abbott Laboratories (ABT) before the end of 2016.
Boston Scientific (BSX) is another major player in the pacemaker market, and it's also expected to follow suit in the leadless pacemaker race in the near future. Investors can invest in the iShares U.S. Medical Devices ETF (IHI) to gain exposure to Medtronic and its peers.