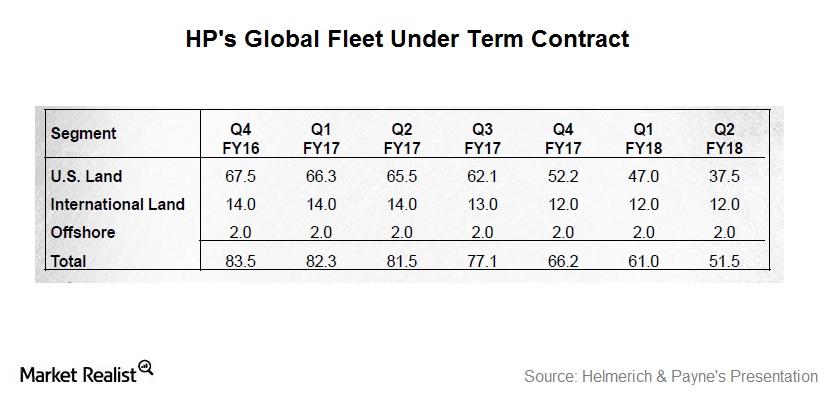 How Much of Helmerich & Payne's Rig Fleet Is Under Contract?
Helmerich & Payne's rig fleet
Helmerich & Payne (HP) expects nearly 84 of its rigs to remain under contract by fiscal 4Q16. In the next seven quarters, HP's management expects HP's rigs under contract to decline to ~52.
Article continues below advertisement
HP's rigs by geography
Forty-four of HP's US Land rigs under contract are located in the Permian Basin in Texas. This accounted for 47% of HP's total rigs under contract.
In comparison, Oklahoma Woodford and the Eagle Ford Shale accounted for 21% and 16%, respectively, of HP's total contracted rigs. Most of the rigs operated by HP are 1,500-horsepower AC flexi rigs.
Who is the industry leader?
According to Rig Data estimates, HP leads the number of AC drive land rigs in the US compared to its peers in the rigs contract business—Nabors Industries (NBR), Patterson-UTI Energy (PTEN), and Precision Drilling Corporation (PDS).
According to Helmerich & Payne, the average FlexRig spot pricing is down by more than 35%, compared to spot pricing at its peak in November 2014.
HP comprises 0.08% of the iShares MSCI ACWI Low Carbon Target ETF (CRBN). The energy sector makes up 6% of CRBN.
Next, we'll discuss Helmerich & Payne's free cash flows.