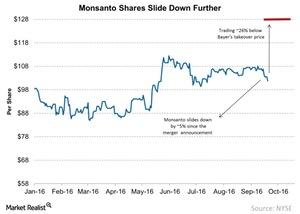 Why Is Monsanto Trading at a 25% Discount to Bayer's Offer?
By Adam Jones

Updated
Monsanto shares are falling
On September 14, 2016, Monsanto (MON) announced that it had agreed to Bayer's buyout price of $128 per share, with the total value of the merger deal, including net debt, amounting to $66 billion. However, almost a week after the announcement, Monsanto shares are trading at nearly a 25% discount to the offer price, at $101.80 per share as of September 19.
A day after the announcement, investors showed a lack of excitement, and MON shares fell slightly on September 15. The shares have continued their downward trajectory since then, falling 5% as of the date of this writing.
Article continues below advertisement
What can explain this?
Monsanto should be trading at $128, which is the value of the offer if the merger with Bayer goes through. But that's a big "if." Monsanto shares seem to keep falling due to increased pessimism that the companies will go through many regulatory hurdles from both the United States (MOO) and the European Union.
In another similar case, PotashCorp (POT) recently announced a merger of equals with Agrium (AGU). Then POT shares began to move sideways. The market believes that these two companies will have to go through regulatory hurdles, but less so than Monsanto and Bayer since POT and AGU are both located in Canada. A merger with Syngenta (SYT) and ChemChina is still pending.
In the next part, we'll see what the market sentiment has been for Monsanto in the days following the news of the merger.