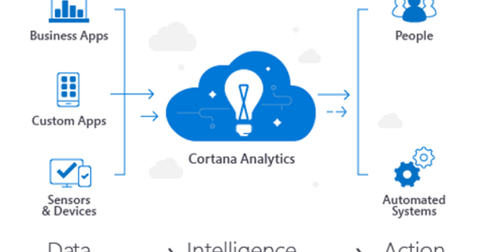 Inside the Latest Buy in Microsoft's Acquisition Spree
By Anne Shields

Updated
Genee: Microsoft's latest acquisition in the AI space
Previously in this series, we learned about Microsoft's (MSFT) sale of its Chinese web portal. To continue its acquisition spree, Microsoft announced the acquisition of Genee in the last week of August 2016. Genee is an AI (artificial intelligence) scheduling app. The financial details of the acquisition were not disclosed.
Founded in 2014 by Ben Cheung and Charles Lee, Genee uses natural language processing technology. It enables interaction among users in the similar manner as if they would do with a virtual PA (personal assistant). Genee's co-founders stated that they agreed to become a part of the company as they consider Microsoft as "the leader in personal and enterprise productivity, AI, and virtual assistant technologies."

Article continues below advertisement
Genee's expertise in AI would benefit Microsoft's Cortana
Genee's expertise hovers around "natural language processing, artificial intelligence (AI), and chat bots." With its expertise in machine learning, Genee would thus be a value addition to Microsoft's Cortana capabilities. Cortana is Microsoft's voice-controlled personal digital assistant, which learns from users' behavior and previous searches. It's also equipped with speech recognition.
Cortana is comparable to Google Now and Apple's Siri. Google Now is Google's (GOOG) (GOOGL) digital assistant. It's available on the Android and Apple (AAPL) iOS operating systems. It functions using a natural language user interface.
Prior to Genee's acquisition, Microsoft acquired Wand Labs, a messaging app developer in June 2016. At its Build 2016 conference, Microsoft shared that the Wand Labs buyout was in sync with its "strategy for Conversation as a Platform." Wand Labs' expertise revolves around "semantic ontologies, services mapping, third-party developer integration and conversational interfaces." As a result, it will likely be a good fit for Microsoft's Bing engineering and platform team, especially for its intelligent agents and chat bots.
Along with Wand Labs' team of natural language processing experts, Genee could thus be quite instrumental in improving Microsoft's Cortana digital assistant and related chat bots.
We'll explore the benefits of Genee to Microsoft in more detail in the next part.