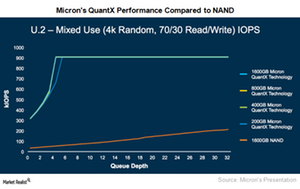 Micron and Intel at Crossroads with 3D XPoint Products
Micron and Intel develop 3D XPoint-based products
Micron (MU) is seeing increasing demand for memory from the PC, server, and mobile markets. While all this may not be able to bring Micron back to its 2012 level of growth, one thing the company is counting on is the revolutionary 3D XPoint memory technology it has developed in collaboration with Intel (INTC).
In July 2015, both companies announced that they'd each develop individual products based on 3D XPoint technology. Intel branded its 3D XPoint products Optane, and Micron branded its products QuantX.
In 2016, both companies showcased their products developed on 3D XPoint at technology forums, and both had different performances.
Article continues below advertisement
Micron's QuantX
At the recent Flash Memory Summit, Micron talked about its QuantX technology, which is based on 3D XPoint, and compared it with NAND. The vice president of Micron's Storage Business Unit, Darren Thomas, showed a slide stating that QuantX had a speed of 900,000 IOPS (input/output operations per second).
Intel's Optane
At the recent IDF (Intel Development Forum), Intel's chief architect for the Optane SSD (solid state drive), Dr. Frank Hady, showed a slide stating that Optane had a speed of 500,000 IOPS and zero latency.
In both presentations, one thing was clear: 3D XPoint–based SSDs are faster than NAND, but how fast is still in question. It's possible that the chip—as claimed—is 1000x faster than NAND, but the busses used to access it and the controllers used to handle it could slow its actual speed.
Intel and Micron target different customer bases
Intel plans to launch its Optane SSDs in the market by the end of 2016 and target enterprise customers. Micron plans to launch its QuantX SSDs in the market over the next year and target applications such as cloud, data analytics, IoT (Internet of Things), mobile, and online transaction processing.
Although both companies will target different customer bases, Intel will get a first-mover advantage in 3D XPoint technology. It's difficult to predict how this new technology will perform in the market. So far, no competing product has been launched in the market, but IBM (IBM) and Hewlett-Packard (HPQ) and SanDisk claim to have developed storage-class memories that could compete with 3D XPoint. However, there have been no further updates on these technologies.
Micron will likely spend a good amount of capital implementing its 3D XPoint technology. Let's look at the company's capital allocation strategy.