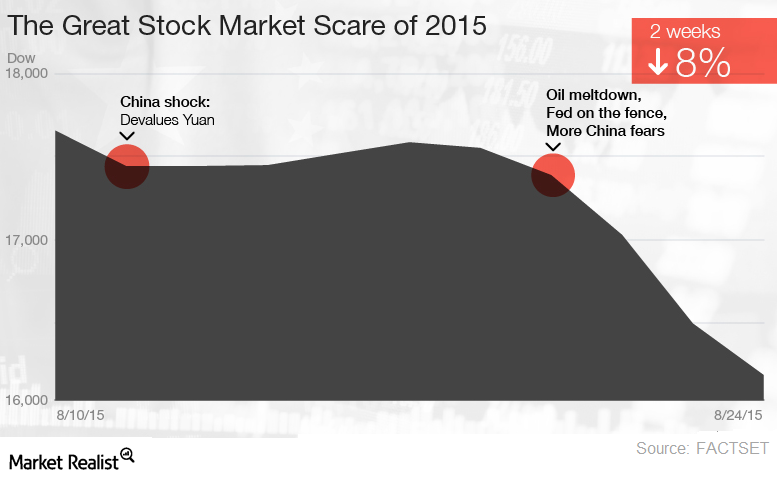 2015 Was No Picnic for Gold Investors, Either
Market Realist – How 2015 wreaked havoc on the stock market and gold
Gold prices further slumped in 2015. Gold prices had shed 9.6% YTD and closed at $1,060 on December 30, 2015. The precious metal, which had recorded a double-digit growth rate in January, started dipping in March. The prices had again recorded a positive growth between the end of March and the end of June and remained below the $1,100 mark after November 2015. The average gold price recorded was $1,160.
Article continues below advertisement
The S&P 500 gained 0.3% YTD to close at $2,060.30 on December 30, 2015. The market volatility, as well as the volatility of gold ETFs, had shot up 45% and 15%, respectively, on August 24, 2015. The Dow had lost 1,000 points in early trading, the worst since the global meltdown period. The Dow was down 13% on August 24.
The energy sector dropped 20%, bulldozed by the tumbling oil prices. On August 24, oil prices were below $39 per barrel for the first time since February 2009 after trading at the $100 mark last year. Oil prices were already under pressure due to the oversupply.
Further, the devaluation of the Chinese currency due to the slowdown in the economy triggered widespread panic across the markets, wreaking havoc on oil prices. China's market was down 40% while the US markets were down more than 10% on August 24.
The dip in gold prices was due to the stronger dollar, as well as speculation surrounding the hike in Fed rates, followed by an actual hike of 0.25% on December 16, 2015. This was the first rate hike since June 2006. At the same time, lower gold prices triggered the demand for bullion coins.
The United States Mint disclosed that it had sold all of its one troy ounce gold American Eagle bullion coins that were minted in 2015. This was the Mint's third consecutive year of record sales. Barclays expect a strong demand for gold coins in 2016 due to the lower prices, especially during the New Year. The 9% dip in the PPI of gold prices was lower compared to the two preceding years.
The SPDR Gold Trust ETF (GLD), the iShares Gold Trust ETF (IAU), and the Sprott Physical Gold Trust ETF (PHYS) were featured among the best performers in 2015. The Gartman Gold/Yen ETF (GYEN) and the Gartman Gold/Euro ETF (GEUR) gained popularity by using the yen and euro, respectively, for investing their assets in the gold market.