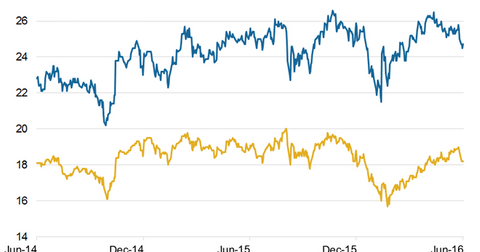 MasterCard Commands Premium Valuations on Core Growth
By Robert Karr

Updated
Expansion and performance
MasterCard's (MA) stock has returned 5% over the past quarter, which is a strong showing within the payment processing industry. MA's returns are backed by robust volume growth and the addition of new clients. The company generates strong cash flows on spending growth in Europe, Asia, and the Middle East.
MasterCard rewards its shareholders through dividends and share repurchases. In July, MasterCard announced a dividend of $0.19 per share, a rise of 19%. The company is also going through a $4 billion repurchase program. The dividends paid translate into an annualized dividend yield of 0.76%.
MasterCard's peers in the brokerage industry have the following dividend yields:
These companies account for 6.8% of the iShares Dow Jones US Financial ETF (IYF).
Premium valuations
Currently, MasterCard (MA) is trading at 24.7x on a one-year forward earnings basis. Its peers are trading at an average of 18.1x. Historically, MasterCard has traded at a premium to its peers because of its strong brand, growing partnerships, diversified global earnings, and higher growth and operating margins. MasterCard's operations have expanded as a result of partnerships, acquisitions, and new markets.
Client incentives are expected to be higher in the upcoming quarters. The company will focus more on payments through mobile phones and digital wearables.
Low double-digit growth
MasterCard's (MA) forecast has remained stable, with slower net profit growth from 2016–2018 compared to 2013–2015. The company expects revenue growth in the low double digits in the next three years compared to 11%–14% in the previous three years.
The markets see MasterCard as a solid growth stock for long-term investors, mainly due to its double-digit growth, regular dividend payout, dollar consolidation, diversified earnings, and focus on high-growth regions such as Europe and Asia.
Article continues below advertisement