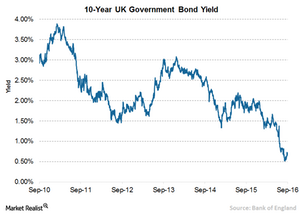 Many Parallels in Developed Countries' Bond Markets
By Matt Tucker, CFA

Sep. 12 2016, Updated 8:05 a.m. ET
Matt explores the disparities within the European fixed income market and offers his thoughts on where potential investment opportunities might lie.
I have been sharing some of my observations on the different bond markets during my travels this summer. Up next on our global bond tour: Europe. I recently had a chance to visit London and meet with investors there. What I found was a U.K. market that had many similarities to the United States and Canada, but across the English Channel, the European continental market looks much different. Let's explore.
Article continues below advertisement
United Kingdom offers some value
At first glance, the U.K. bond market bears some resemblance to the United States and Canada. As of July 31, the 10-year U.K. bond yield is 0.83%, a bit below the 1.58% of the United States, but still positive (source: Bloomberg). And if you look at short-term interest rates, they went from 0.50% to 0.25% in early August (source: Bank of England). Sounds a lot like the states, and sounds a lot like Canada. Australia also fits into this same category: developed bond markets with positive interest rates and central banks that have kept short-term rates low and accommodative.
Market Realist – Accommodative policies in select developed markets
In the first week of August 2016, the BOE (Bank of England) cut its key interest rate to a record low of 0.25% from 0.5%, the first cut in seven years. The cut was necessary in order to stimulate economic growth after the United Kingdom (EWU) (EWUS) voted in June 2016 to exit the European Union.
Following the Brexit vote and the subsequent interest rate cut, investors flocked to safer government bonds, which led to a drastic fall in yields. The United Kingdom's ten-year government bond yields hit an all-time low of 0.52% on August 12, 2016, from this year's high of 1.96% in January. The BOE also expanded its quantitative-easing program to 435 billion pounds from the earlier 375 billion pounds and also decided to buy corporate bonds.
Developed market parallels
Despite the fall in the interest rate, yields in the United Kingdom are still positive, just like other developed countries such as Canada, the United States (AGG) (IEF), and Australia (IAF). Currently, the ten-year Canadian government bond yields 1.0%, while yields in the United States and Australia are 1.5% and 1.8%, respectively.
Another similarity among these countries is the trend of declining interest rates. The Bank of Canada cut interest rates twice in 2015, but this year, it was patient and instead assessed the impact of stimulus measures. Similarly, interest rates in Australia have been cut twice this year to a record low of 1.5% for the year.