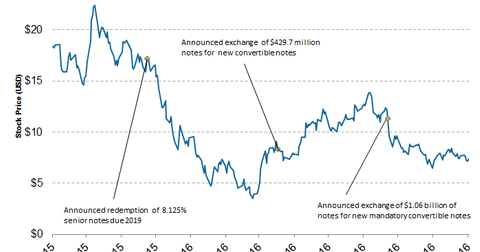 Make Sure You Know These Goals in Whiting's Growth Plan
By Keisha Bandz

Updated
Key management objectives
Whiting Petroleum (WLL) has taken several steps to counter lower commodity prices, including capital reductions. The company reduced its 2016 capex (capital expenditure) by a whopping 76% from 2015. The capex budget for 2016 is $550 million.
Many upstream companies have reduced their 2016 capex in response to lower energy prices (USO) (UNG). Newfield Exploration (NFX) and Concho Resources (CXO) lowered their 2016 capex by ~50% and 35%, respectively, from 2015. Anadarko Petroleum's (APC) 2016 capex is also ~50% less than its 2015 capex. These companies make up ~10% of the iShares US Oil & Gas Exploration & Production ETF (IEO).
Article continues below advertisement
Recent highlights
In 1Q16, WLL entered into a "wellbore participation agreement" in the Williston Basin with an unknown private player. In 2Q16, Whiting signed another well participation agreement, for 30 wells, with similar terms as the previous agreement. (We'll talk about this in detail in a later part of this series.)
Convertible notes
In June 2016, Whiting Petroleum announced that it has entered into a private agreement with its bondholders to exchange $1.1 billion in notes for new mandatory convertible notes. Under the agreement, WLL will exchange $377 million of non-convertible notes for the same principal value of new mandatory convertible notes.
Year-to-date, the company has exchanged $1.6 billion in notes for new convertible notes. In its 2Q16 earnings release, the company stated that "these debt exchanges have effectively reduced Whiting's debt by $810 million as of July 27, 2016, by conversion into stock."
After its Kodiak Oil and Gas acquisition in 2014, WLL took on a lot of debt—$5.2 billion as of December 31, 2015. Since then, the company has been working on improving its financial position.
In the next part, we'll look at analyst projections for Whiting.