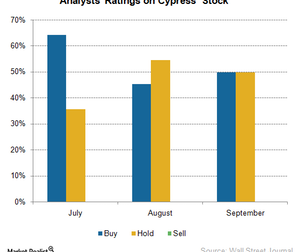 What Caused Cypress's Stock to Outperform the Market?
By Puja Tayal

Updated
Stock price movement
Over the past three months, Cypress Semiconductor (CY) has completed its acquisition of Broadcom's (AVGO) wireless IoT (Internet of Things) business and appointed a new CEO. Its change in management ignited rumors that it had received buy offers from three private equity companies. All of this worked well for Cypress's investors.
One day after the completion of the company's IoT acquisition on July 5, 2016, Cypress's stock started on a growth path. It fell slightly on August 11, 2016, when its new CEO was appointed, but it resumed growth a day later. 
On August 30, 2016, Cypress's stock spiked 5.6% on the rumor that TPG Capital was ready to offer $15 for one share of Cypress, the amount demanded by the semiconductor supplier.
Article continues below advertisement
Cypress outperforms the market and its peers
Year-to-date (or YTD), Cypress's stock rose 20%, whereas rival Integrated Device Technology's stock (IDTI) fell 14.8%, and Xilinx's (XLNX) stock rose 13.3%. Cypress outperformed the S&P 500 Index, which rose 5.7% YTD.
Cypress is a highly volatile stock with a beta of 1.8. Competitors IDTI and XLNX have betas of 2.06 and 0.91, respectively. Beta is a measure of volatility, with a beta of less than 1 indicating low volatility and a beta of more than 1 indicating high volatility.
Analysts' ratings
Wall Street analysts have had mixed ratings for Cypress in September 2016. They're equally divided over "buy" and "hold" ratings. Not a single analyst has given a "sell" recommendation on the stock. Cypress has a median price target of $13, and it's currently hovering at a discount of around 10%. The stock will likely reach this target if the company reports strong 3Q16 earnings and guidance.
Cypress has a bullish price target of $15, which it could reach if an acquisition is announced. Cypress has a bearish target of $11, which it could hit if its guidance is low and its earnings growth slows.
Cypress's management stated that it would continue to pay dividends but that it would slow its share buybacks in order to repay debt. Investors are optimistic about Cypress on the possibility of an acquisition.