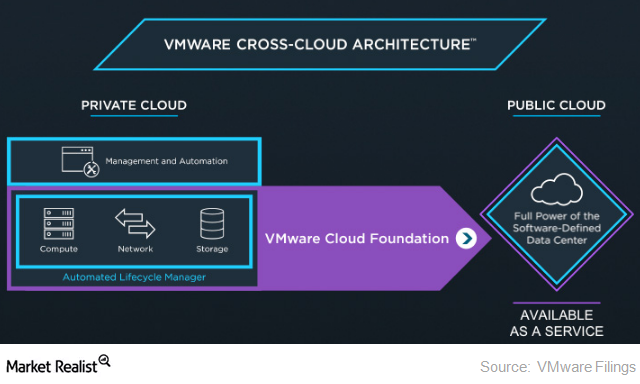 A Look at VMware's Newest Offering, Cross-Cloud Architecture
By Anne Shields

Sep. 1 2016, Updated 1:09 p.m. ET
VMware's Cross-Cloud Architecture
As we've already seen, VMware (VMW) will become part of Dell technologies after the Dell-EMC (EMC) deal is completed. Dell's CEO (chief executive officer) chose the platform of the VMworld 2016 conference to clear the air about VMware's future. The company also chose this conference to unveil its new Cross-Cloud Architecture.
According to VMware's press release, it "enables consistent deployment models, security policies, visibility, and governance for all applications, running on-premises and off-premises, regardless of the underlying cloud, hardware platform or hypervisor."
The core elements of VMware's Cross-Cloud Architecture are VMware Cloud Foundation and Cross-Cloud services, as the below presentation shows.
Article continues below advertisement
Cross-Cloud Architecture provides "a common operating environment" for public and private clouds
VMware Cloud Foundation, a part of VMware's Cross-Cloud Architecture, is an integrated SDDC (software-defined data center) platform that combines computing, network, and virtualization and storage technologies. It's also available as an "as a service" offering.
Cross-Cloud Services, another key element of VMware's Cross-Cloud Architecture, is currently under development. Through these services, customers can run, manage, administer, and secure applications on private as well as public clouds such as Amazon's (AMZN) AWS (Amazon Web Services), IBM (IBM) Cloud, and Microsoft (MSFT) Azure.
Raghu Raghuram, executive vice president and general manager of the company's SDDC (Software-Defined Data Center) division, commented on how VMware's Cross-Cloud Architecture provides "a common operating environment" for clouds. He said, "When customers combine a best-in-class private cloud with leading public clouds, all enabled by VMware, they have the strongest, most flexible hybrid cloud strategy. VMware is delivering cloud freedom and control by providing a common operating environment for all clouds with our unique Cross-Cloud Architecture."