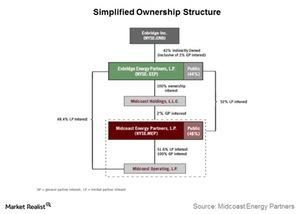 What Lies Ahead for Midcoast Energy Partners?
Strategic review
Midcoast Energy Partners's (MEP) performance in the last few quarters has been significantly impacted by the low commodity price environment. In May 2016, MEP and its sponsor, Enbridge Energy Partners, announced the "evaluation of strategic alternatives to address challenges" in MEP's natural gas business. MEP expects this review to complete by the end of 2016.
MEP notes that the various strategic alternatives under consideration include "asset sales; mergers, joint ventures, reorganizations or recapitalizations; and further reductions in operating and capital expenditures for the Natural Gas business."
Article continues below advertisement
Business overview
Midcoast Energy Partners (MEP) is primarily engaged in the gathering, processing, transportation, storage, and wholesale marketing of natural gas and NGL (natural gas liquids) products.
Midcoast Energy Partners was formed by Enbridge Energy Partners (EEP) for the expansion of its natural gas and NGL midstream business. EEP holds 52% limited partner (or LP) interest and 2% general partner interest in MEP. The balance of 46% LP interest is held by the public. The above chart shows MEP's organizational structure.
MEP carries its operations through a unit called Midcoast Operating, in which it has the controlling interest of 51.6%. The 48.4% balance of non-controlling interest is with EEP. Through Midcoast Operating, MEP owns and operates a network of natural gas processing and treating facilities, as well as NGL gathering, processing, and transportation assets.
Support from EEP
According to an agreement between MEP and EEP, starting in 2Q15, if "MEP has a distributable cash flow result that is less than 1.0x distribution coverage for any quarter, EEP will forgo a portion of its quarterly distribution from Midcoast Operating to help MEP achieve a 1.0x distribution coverage during that period."
This portion can be up to the full amount of its distribution from Midcoast Operating. MEP is not required to reimburse EEP for these adjusted distributions. This agreement will be effective until 4Q17.
Next, let's look at MEP's stock performance in 2016 as well as analysts' recommendations for the stock.