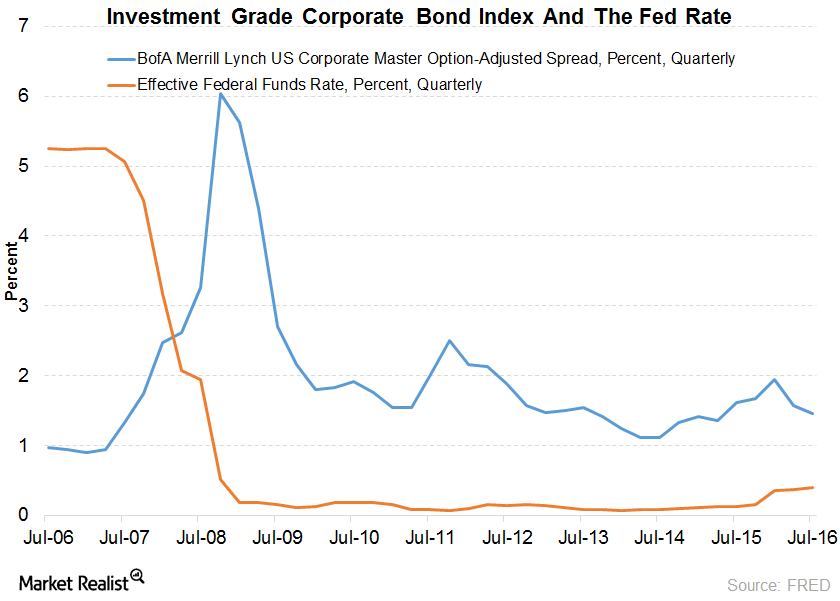 Why the Spike in Demand for Investment-Grade Corporate Bonds?
Given this backdrop, what have investors been doing with their money?
The first thing that jumps out at me from this Bloomberg data is the continued search for yield. Investors have put money into investment grade corporate bonds and emerging markets—two sectors that have historically provided above average levels of income compared to other fixed income segments. This isn't really a surprise given how low yields are in the market. It is increasingly difficult to generate income in a bond portfolio, driving many investors to seek out new sources of income. Investment grade corporate bonds and emerging market debt have benefited from this trend for most of 2016.
Article continues below advertisement
Market Realist –US investment-grade corporate bonds, the most sought-after form of investment
The demand for US investment-grade corporate bonds was driven by higher yields generated by bonds in the midst of low interest rates. The Fed's low projections further fueled the growing demand for bonds, especially bonds with shorter maturities. This is because the rally in the bond market may be affected if the Fed doesn't raise rates again.
Bonds have also been attracting foreign funds. This is primarily because low rates in the future could further trigger the demand for US bonds to capture present yields compared to negative yields around the world. The near-zero yield approach of the central banks of Japan and England has injected around $146 billion into US corporate bonds in the 12 months that ended in July 2016, against $18.4 billion in 2014.
US investment-grade corporate bonds have had a return of 8.4% through September 20, 2016, according to the Bloomberg Barclays US Corporate Bond Index, cumulative of price appreciations and interest payments. However, a potential rate hike in December 2016 might lead to a sell-off in bonds in the upcoming months before the cost of borrowing rises. All these situations could clearly add to an increased demand for bonds right now.
Let's look at some year-to-date returns for ETFs: