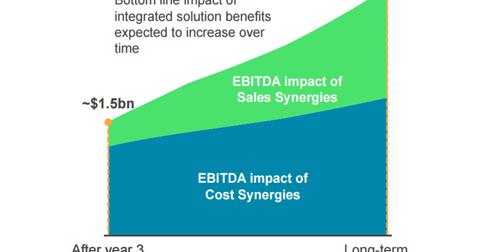 Why Did Monsanto Agree to a Buyout by Bayer?
By Adam Jones

Sep. 16 2016, Published 8:13 a.m. ET
Inorganic growth
Agribusiness is waiting for the next upswing that will lift fundamentals for companies within the sector. In the current year, crop prices have seen multiyear lows, which in turn has set off a chain reaction that has weakened the fundamentals of companies serving the agribusiness sector (MOO) such as fertilizers and agricultural equipment. For more information, read Why the Near-Term Outlook for Agricultural Chemicals Looks Cloudy.
Article continues below advertisement
Monsanto's business
In fiscal 3Q16, about 76.6% of Monsanto's (MON) net sales came from its Seeds and Genomics segment. The rest, or 23.4%, came from its Agricultural Productivity segment. Under the Seeds and Genomics segment, corn seed and traits sales accounted for 38% of net sales, followed by soybean and traits at 16.5%. The remaining seeds and traits, including cotton, contributed 22% to sales.
Corn and soybean are key for Monsanto, and prices of both commodities (MOO) have been falling due to an increase in agricultural output. Declining crop prices and declining farm income make it difficult for farmers to justify the cost of seeds and traits, putting Monsanto in a tight spot.
Thus, growth by means of merger and acquisition appears to be the emerging choice for these companies. Dow Chemicals (DOW)-DuPont (DD) and PotashCorp (POT)-Agrium (AGU) have all followed suit.
Justifying this buyout
The market views the rationale behind this deal as ranging from inorganically growing the bottom line to a deal that will bring better order to the world of agribusiness. Inorganic growth takes place when a company's growth comes from mergers and acquisitions as opposed to growth through internal business activities. The chart above shows $1.5 billion in synergies beginning in year three and EBITDA expansion over the long term for the combined Monsanto and Bayer.
We must also acknowledge that agricultural chemical companies have been critical in boosting crop yields over the years, be it through engineered seeds that are resistant to pests or through fertilizers that provide essential nutrients for crop growth.