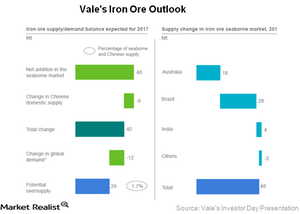 Why Vale SA Believes the Iron Ore Market Will Balance Out
By Anuradha Garg

Sep. 22 2016, Updated 12:04 p.m. ET
Demand for iron ore
Vale SA (VALE) is positive on the iron ore outlook. On the demand side, the company believes that credit easing and public fixed asset investment (or FAI) should help kick-start the property market.
Since the beginning of 2016, the Chinese government's stimulus, including record issuance of local government bonds and renminbi loans to households, helped FAI recovery. This, in turn, boosted the real estate market, which positively impacted the steel demand. The company believes that going forward, the property market should continue to remain stable as inventory falls.
The company also believes that the steel inventory throughout the supply chain remains low even as steel production is increasing. This scenario will use up iron ore even as the stockpiles at ports increase.
Article continues below advertisement
Supply of iron ore
While the overall supply of iron ore is expected to increase in 2016, Vale believes that the Chinese (FXI) domestic concentrate should fall ~20% in 2016 compared to 2015. This will be mainly because seaborne iron ore is much more competitive compared to domestic Chinese ore, leading to a substitution from imports. Vale also said that a reduction of 26 million tons has already occurred in the first half of 2016, which supports its estimate of a total reduction of 44 million tons in 2016.
Based on these factors, the company expects the demand and supply for iron ore to reach a somewhat balanced position in 2017. It expects supply additions to reach 40 million tons and demand to rise by 12 million tons, thus creating oversupply in the amount of 28 million tons.
Rio Tinto (RIO) and BHP Billiton (BHP) believe that oversupply could lead to a further period of weakness in iron ore prices. Anglo American (AAUKY) has a similar view. Its CEO (chief executive officer) said that iron ore is in a depressed state and will continue to remain so for an indefinite period of time.