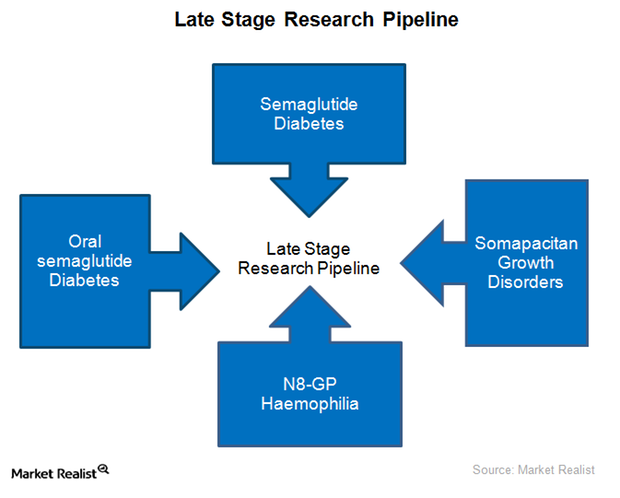 What Will Drive Novo Nordisk's Growth in Diabetes and Hemophilia?
By Margaret Patrick

Oct. 3 2016, Updated 11:05 a.m. ET
Late-stage research pipeline
Novo Nordisk (NVO) is currently exploring four investigational drugs in Phase 3 clinical trials: a semaglutide and an oral semaglutide for diabetes, N8-GP for hemophilia, and Somapacitan for growth disorders. This strong late-stage research pipeline is expected to translate into solid growth prospects for Novo Nordisk going forward.
Article continues below advertisement
Semaglutide
Semaglutide is a Glucagon-like peptide-1 (or GLP-1) analogue therapy and is being tested as a once-weekly subcutaneous therapy for type-2 diabetes patients. The reduced dosage frequency is expected to improve patient compliance and hence lead to higher demand for the drug.
On April 02, 2016, Novo Nordisk announced that in its first Phase 3A study, the drug managed to demonstrate statistically significant improvement in glycemic control in type-2 diabetes patients as compared to a placebo. On May 28, 2016, the company further announced that in a Phase 3A trial, its semaglutide demonstrated efficacy over insulin glargine U100 in glycemic control in type-2 diabetes.
On June 12, 2016, Novo Nordisk declared that in two more Phase 3A trials, its semaglutide has managed to demonstrate higher efficacy as compared to Merck's (MRK) Januvia (sitagliptin) and Astrazeneca's (AZN) Byetta (exenatide) in glycemic control for type-2 diabetes.
"Glycemic control" is a term that refers to the level of blood sugar in the patient's body. Hemoglobin A1c (or HbA1c), also called glycosylated hemoglobin, is measured as a proxy for glycemic control in clinical trials involving diabetes patients. On September 13, 2016, NVO's semaglutide also managed to demonstrate efficacy over placebo in reducing HbA1c levels in type-2 diabetes when administered as a once-weekly injection.
Article continues below advertisement
NVO's semaglutide was delivered to trial subjects either in addition to basal insulin or in combination with metformin. In another Phase 3A trial, Semaglutide has also demonstrated that the drug is effective in reducing cardiovascular events by 26% in type-2 diabetes patients facin significantly higher cardiovascular risks.
Based on strong results from its late-stage clinical trials, NVO's semaglutide is expected to receive regulatory approvals in the US and Europe. The drug will pose strong competition to other GLP-1 drugs such as Eli Lilly's (LLY) Trulicity and GlaxoSmithKline's Tanzeum.
Oral semaglutide
Currently in Phase 3 trials, Novo Nordisk is testing its oral semaglutide as a once-daily therapy for type 2 diabetes patients. As an oral GLP-1 analogue, this drug is expected to attract a significant portion of the diabetes patient population due to greater ease of use.
Article continues below advertisement
N8-GP
N8-GP is currently being explored as a prophylactic as well as a treatment option for patients suffering from hemophilia A.
Somapacitan
Somapacitan is being studied by Novo Nordisk as a once-weekly injectable and long-acting growth hormone. While the growth disorder space has limited prospects, Novo Nordisk has planned a defensive strategy for this segment.
Notably, the Vanguard FTSE All-World ex-US ETF (VEU) has about 0.34% of its total portfolio holdings in NVO.
In the next and final part, we'll explore the differentiating factors of Novo Nordisk's research pipeline.