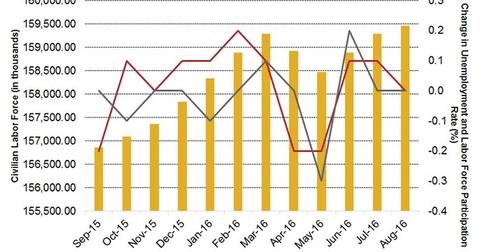 August's Labor Force Participation Rate Came In at 62.8%
By Rick Rieder

Sep. 19 2016, Updated 4:04 p.m. ET
We saw a 24,000 decline in goods-producing jobs last month, while services gained 150,000 (the government sector made up the difference). In other words, we are not only watching a labor market heal from a massive financial (KBE) crisis and recession (nearly eight million jobs have been created over the past three years), we are also witnessing a reordering of the labor market due to the impact of technological change.
Article continues below advertisement
Market Realist – Seasonal adjustments could reflect softer numbers in August
Both the labor force participation rate, which came in at 62.8%, and the employment-population ratio, which came in at 59.7%, were unchanged in August. Adjusting the data for seasonal fluctuations related to school calendars seems relatively difficult with a smaller-than-expected rise in payrolls. The government's initial August payroll estimates haven't been strong enough for upward revision over the past several years.
Many economists see that August numbers have tended to come in on the softer side. This trend indicates that, rather than underlying weakness, seasonal adjustment problems could reflect lower numbers in August.
Market Realist – A rate hike could be determined by wage growth
Average hourly earnings for all employees on private nonfarm payrolls rose by three cents or 0.1% to $25.73 in August after a 0.3% rise in July. Average hourly earnings for private-sector production and nonsupervisory employees rose by four cents to $21.64 in August. This moderate growth (IWO) pulled down the year-over-year gain to 2.4% from an upwardly revised 2.7% in July—the largest rise in seven years.
The next rate hike could also be determined by wage growth (IWF). With almost a decade of low interest rates and slower economic expansion, US large caps (SPY)(VTI) struggle with over a year of declining earnings. However, lower rates have helped stock prices increase record highs. A rate hike would also lead to higher yields and lower prices for US Treasuries (TLT), which would cause a bond market sell-off.