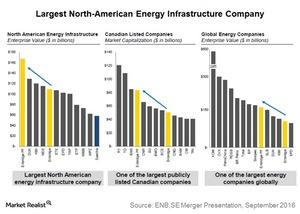 Enbridge, Spectra Energy Merger Makes History
The merger agreement
On September 6, 2016, Enbridge (ENB) and Spectra Energy (SE) announced a stock-for-stock merger agreement, which values Spectra Energy common stock at $28 billion. Under the terms of the agreement, Spectra Energy shareholders will receive 0.98 shares of the combined company for each share of SE common stock.
The offer price represents a premium of ~11.5% to SE's closing price on September 2, 2016. Spectra Energy shares closed 13.4% higher on September 6, 2016.
Article continues below advertisement
Enbridge and Spectra Energy shareholders will own 57% and 43%, respectively, of the combined entity. Upon finalizing the merger, the combined company will be called Enbridge Inc., and Spectra Energy common stock will be delisted from the New York Stock Exchange. The transaction is expected to close in the first quarter of 2017, subject to shareholder and regulatory approvals.
Largest energy infrastructure company
The pro forma company is expected to be the largest energy infrastructure company in North America by enterprise value. It will be bigger than infrastructure giants Kinder Morgan (KMI), Energy Transfer Equity (ETE), and Enterprise Products Partners (EPD).
After the deal closes, Enbridge's head office will remain in Calgary. Al Monaco, the current CEO (chief executive officer) of Enbridge, will continue to serve as CEO of the combined entity. Greg Ebel, the current Spectra Energy CEO, will serve as chair of the merged entity.
DPM, EEP, and SEP to remain unchanged?
The companies plan to "maintain robust sponsored investment vehicles and MLPs." Enbridge Energy Partners (EEP) is an MLP formed by Enbridge. Spectra Energy Partners (SEP) is Spectra Energy's MLP.
According to the company, there won't be any change in Spectra Energy's 50% investment in DCP Midstream, which owns a 22% interest in DCP Midstream Partners (DPM). Phillips 66 (PSX) owns the other 50% interest in DCP Midstream.