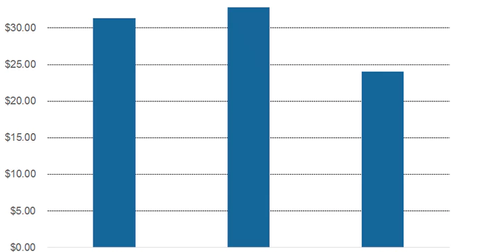 Apple's iPhone 7 Price May Be a Deal Breaker for Global Consumers
By Adam Rogers

Updated
iPhone 7 Plus starts at $769
During its annual September launch event, Apple (AAPL) stated that the 5.5-inch iPhone 7 Plus with 32GB (gigabyte) storage capacity will be priced at $769. The 128GB and 256GB phones will be priced at $869 and $969, respectively.
The company added that the 4.7-inch iPhone 7 with 32GB storage will be priced from $649 and up to $849 for the 256GB model.
Article continues below advertisement
Revenues and sales
The iPhone accounts for almost 60% of total revenues for Apple, and any impact on iPhone sales will directly impact the company's overall sales. Apple's revenue fell year-over-year in the last two fiscal quarters, and the company is banking on the recently launched iPhone 7 to drive revenue growth over the next year or so.
The iPhone's slowing sales reflected a slowdown in the global smartphone market. Apple has struggled to maintain the exponential growth it experienced in the last few years with respect to its flagship business product. Fiscal 2016 is also an "S" year for the iPhone, so this has generated limited consumer interest.
iPhone 6s pricing changed
As expected, Apple has reduced the prices of its iPhone models such as the iPhone 6s, 6s Plus, and iPhone SE. The iPhone 6s will be available in storage configurations of 32GB and 128GB, priced at $549 and $649, respectively. For the iPhone 6s Plus with storage of 128 GB, prices fell to $749 from $1,000. The prices of the 64GB iPhone SE also fell to $449 from $499.
Analysts will be closely watching sales of the new iPhone, as well as the prior models. Although the iPhone is a popular product in the US (SPY) and Western Europe, it is still viewed as a niche product in most developing markets.