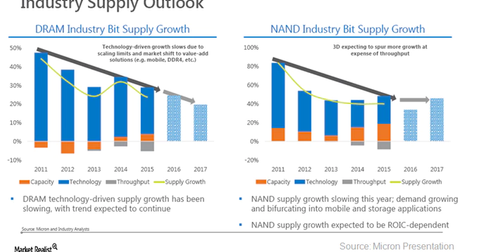 iPhone 7 Puts RAM Pricing into Play
By Adam Rogers

Updated
Larger iPhone to come with 3 GB of RAM
As we discussed in Part 1 of this series, Apple (AAPL) is expected to launch the iPhone 7 during its annual event showcase on September 7, 2016. While the larger 5.5-inch model is expected to be launched with 3 GB (gigabytes) of RAM (random access memory), the smaller iPhone is likely to continue with 2 GB of RAM.
In terms of capacity, the iPhone 7 will start at 32 GB of storage to a maximum of 256 GB, according to AppleInsider.
Article continues below advertisement
DRAM prices rise on iPhone orders
According to AppleInsider, "Global DRAM prices are continuing to climb on the strength of orders for the iPhone 7 and demands from competitive China-based manufacturers, causing a ripple effect across the entire computing industry."
A DRAMeXchange report on the movement of DRAM prices stated that prices have been trending upward since July 2016. Earlier this month, Hewlett-Packard (HPQ) stated that the industry could see a possible shortage of memory products due to suppliers' focus on smartphones.
Several media reports stated that Apple might provide 32-GB (gigabyte) memory in the higher-end versions of iPhone 7 and iPhone 7 Plus. HP's comment about the memory supply shortage supports reports that iPhone 7 would have more memory content than its predecessors.
This shift in focus toward smartphones is largely due to Samsung and Apple, which together command a 34% share of the smartphone market. However, this is a seasonal demand and will fade away after iPhone 7 production slows. If the iPhone 7 suffers the same fate of iPhone 6s and 6s Plus, memory sales may fall in the first half of 2017.