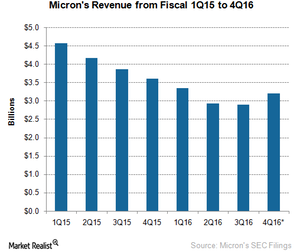 What Can Investors Expect from Micron's Fiscal 4Q16 Earnings?
By Puja Tayal

Updated
Micron set to report fiscal 4Q16 earnings
It hasn't been long since the recent quarterly earnings season ended, and the new earnings season is about to begin. This time, earnings look positive, showing predictions about growth in 2H16 to be true.
The only US DRAM (dynamic random access memory) manufacturer, Micron Technology (MU), is set to report its fiscal 4Q16 earnings for the period ended in August 2016 on October 4, 2016.
At the time of its fiscal 3Q16 earnings, the company expected flat revenue growth and falling profits for fiscal 4Q16. However, at the recently held Citi Conference, Micron's chief financial officer, Ernie Maddock, stated that in light of current market developments, the company expected its fiscal 4Q16 earnings to be at the higher end of the range or above.
Article continues below advertisement
DRAM and NAND prices impact Micron's revenue
As seen in the above graph, Micron's revenues have been falling for the past seven quarters as a DRAM oversupply situation has reduced DRAM's ASP (average selling price) significantly. This has impacted the earnings of Micron, Samsung (SSNLF), and SK Hynix. For this reason, the latter two companies decided to stall their DRAM productions in July 2016 and to focus on NAND.
Meanwhile, demand for DRAM has risen as the PC (personal computer) market has stabilized in anticipation of strong demand in the holiday season. A fall in supply and a rise in demand have stabilized DRAM prices, which have been falling for the past 19 months.
Even NAND prices have risen as suppliers are transitioning to 3D NAND. As industry supply has slowed and demand and prices have risen, Micron has revised its revenue guidance.
Revenue guidance for fiscal 4Q16
In its fiscal 3Q16 earnings, Micron stated that it expected to report revenue of between $2.9 billion and $3.2 billion. Now, it expects to report revenue of around $3.2 billion, a 10.4% rise from its fiscal 3Q16 revenue of $2.9 billion but an 11% fall from its fiscal 4Q15 revenue of $3.6 billion. Analysts expect Micron to report revenue of $3.1 billion.
Micron's DRAM partner Intel (INTC) has also increased its revenue guidance for its fiscal 3Q16, which ended in September 2016, by 4.7% due to improvements in PC demand. Micron's key customer, Hewlett-Packard (HPQ), stated its intentions to stock up on memory inventory over fears of a supply shortage in the future.
To add a cherry on top, Micron completed key mobile customer qualifications that would drive revenue growth in fiscal 4Q16. There are rumors that Micron supplied DRAM for Apple's (AAPL) iPhone 7.
In this series, we'll look at the key factors that could drive Micron's fiscal 4Q16 earnings.