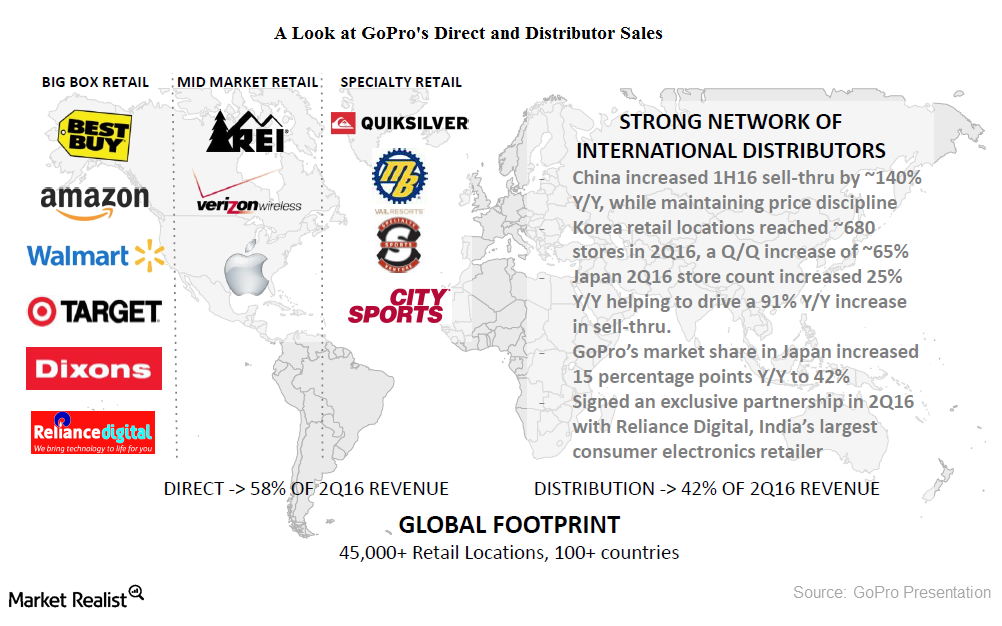 International Markets of Growing Importance to GoPro
By Adam Rogers

Sep. 16 2016, Updated 10:04 a.m. ET
Store count rose 25% in Japan
China (FXI) is one of GoPro's fastest-growing markets. In the first half of 2016, the company's sell-through rose 140% YoY in China. GoPro has also experienced strong online sales in China. In the first six months of 2016, its sales volume rose 150% YoY on Alibaba's (BABA) Tmall and JD.com (JD).
In 2Q16, the number of stores that sell GoPro products rose 65% quarter-over-quarter in Korea to 680 stores.
Article continues below advertisement
Exclusive partnership with Reliance Digital
In August 2016, GoPro (GPRO) announced an exclusive partnership with Reliance Digital, which is India's (EPI) largest consumer electronics retailer. GoPro will now be able to display its award-winning cameras in 1,800 Reliance Digital stores in 500 cities.
GoPro is looking to target India's young consumer market, where peer companies such as Sony (SNE) and Canon (CAJ) have considerable market penetration. According to GoPro, Reliance Digital's store associates can educate consumers on GoPro products, enhancing their customer experience.
"We are looking forward to bringing our product to India's young, creative and tech-savvy market and are thrilled to be working with Reliance Digital, a premier electronics retailer in India," said Tony Bates, president of GoPro. "We view this as a strategic partnership that brings much more than just shelves for our products but a true partner to help with GoPro's success in India."
GoPro stated that it will offer localized customized experiences in multiple languages such as French, Portuguese, German, Japanese, Chinese, and Korean. GoPro's presence in international markets is expected to rise in the second half of 2016.