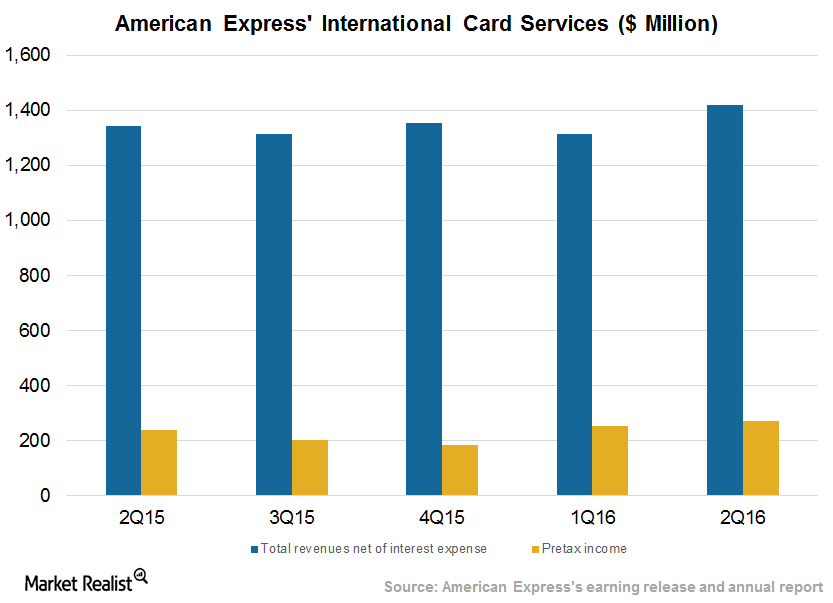 International Growth Continues to Offset Amex's Domestic Slide
By Robert Karr

Sep. 6 2016, Updated 2:04 p.m. ET
International Card Services
American Express's (or Amex) (AXP) revenue decline in the domestic market has been partially offset by growth in international markets. The International Card Services segment posted the highest revenue over the past five quarters on the back of new partnerships and stable European economy. Total revenues, net of interest expenses, rose 6% to $1.4 billion in 2Q16 compared to $1.3 billion in 2Q15. This was 17% of the company's total revenues.
Article continues below advertisement
On a constant dollar basis, revenues rose 11%, mainly due to higher bank partnership revenues and card member spending. The rising dollar continues to hurt the company's international revenues. American card companies continue to forge more partnerships internationally in order to make up for increased competition in the domestic market.
Over the past few quarters, US companies' revenues have fallen due to the strong dollar. This trend is expected to weaken since the Federal Reserve is expected to raise rates at a slower pace in 2016. Net income for the International Card Services division increased to $228 million compared to $193 million in 2Q15.
American Express achieved net profits of $5.2 billion in its last fiscal year. Here's how some of American Express's peers in the payment processing industry fared with their net profits in the last fiscal year:
MasterCard (MA): $3.6 billion
Visa (V): $5.4 billion
Discover Financial Services (DFS): $2.3 billion
Together, these companies account for 1.9% of the iShares Core S&P 500 ETF (IVV).
Expenses rise at a slower pace
American Express saw a rise in total expenditures of 4% to $1.1 billion in the June quarter. This compares to $1 billion in the prior year's quarter. On a constant dollar basis, expenses increased 7% from the previous year. The current quarter's expenses reflected higher investment spending on growth initiatives as well as a portion of the restructuring charge.
The company's card billed business rose 5% in 2Q16 to $84.2 billion due to higher spending. Its cards-in-force increased by 5% to $61.2 million compared to $58.5 million in 2Q15.
Next, let's look at American Express's Global Commercial Services and 2Q16 spending.