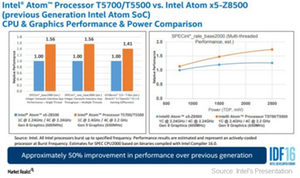 Intel's Atom Processors Make a Return with a Different Approach
By Puja Tayal

Sep. 7 2016, Updated 9:04 a.m. ET
Intel's Atom processors return
So far in this series, we've discussed how Intel (INTC) unveiled its seventh generation PC processor, KabyLake, which announced its aim of 4K video streaming at the IDF (Intel Development Forum) 2016. Intel gave another surprise to investors at IDF 2016 with its new Atom processors.
At the start of fiscal 2Q16, Intel exited the Atom mobile chip business due to strong competition from Qualcomm's (QCOM) ARM-based chips. Although Atom chips delivered higher performance than ARM chips, they were less power efficient than ARM chips. Intel failed to compete with ARM technology and exited the mobile processor market.
Article continues below advertisement
Intel's Atom chips have been powering Google's (GOOG) Android OS (operating system). At the time of exiting Atom business, an Intel spokesperson, in an email to PC World, stated, "We will continue to work with Google on supporting their OS for different product lines including Chromebooks, tablets, and IoT (Internet of things) products."
The statement has proven to be true as Intel's high-performance Atom chips are back and this time, they have a different approach. At the IDF 2016, Intel launched its new Atom T5500 and 5700 chips designed for robots, drones, wearables, and smart home devices. These devices need power-efficient chips with high performance.
Features of Atom T5500 and 5700
The new Atom chips are based on Intel's Goldmont architecture and consume only 6 watts–12 watts of power. The company claims that these new chips have up to 80% in improved memory bandwidth as compared to the previous Atom chip based on the Silvermont architecture. The new chips also feature the error correction support available on Atom server chips.
Atom T5500 and 5700 chips apt for VR-AR
The new Atom chips would be integrated with a Generation 9 graphics processor, which would bring 4K video capabilities and make them ideal for VR-AR (virtual reality and augmented reality) headsets.
The future trend of drones and self-driving cars would require motion tracking and image recognition. This has led to the emergence of visual computing, and Atom chips are ideal for the same. Intel stated that the new chips are integrated with next-generation image processing, accelerating visual computing.
Atom T5500 and 5700 have the ability to support up to three 4K DisplayPort and HDMI (high-definition multimedia interface) displays at a 60-Hz refresh rate. The new chips are compatible with Microsoft's (MSFT) Windows 10 Desktop, Windows 10 IoT Core, Linux, Google's Android, and the VxWorks OS.
Next, we'll look at Intel's other products targeting VR-AR.