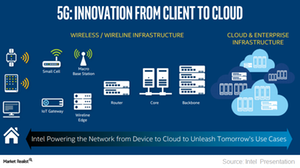 Seeing the Potential, Intel Revamps Its Portfolio to Focus on 5G
By Puja Tayal

Sep. 16 2016, Updated 10:14 a.m. ET
Intel undergoes a strategic shift
Intel (INTC), a $55 billion revenue company whose dominant position in the PC (personal computer) and data center spaces remains unbeaten, is undergoing a transition. For more than a year, the company has been talking about a shift in its focus away from PCs and toward data center and IoT (Internet of Things) technology.
Over the past six months, the company took some significant steps that indicated a strategic shift. At the Citi Conference, the president of Intel's Client and IoT Businesses and Systems Architecture Group, Murthy Renduchintala, gave a broad perspective of Intel's future growth strategy and its key focus areas.
Article continues below advertisement
Intel's portfolio transformation
Intel is positioning itself as a complete solutions provider of the future 5G (fifth-generation) world. With its broad product portfolio, the company provides an interconnected strategy that links IoT devices and PCs to the network and data center spaces.
The 5G world demands an immense amount of R&D (research and development), as it's not just one market or one product, but a combination of multiple markets that creates a whole ecosystem in the connected world.
Intel is transforming its client portfolio from PCs and smartphones to connected cars, homes, factories, cities, robots, and drones. The data generated from all these devices could bring a paradigm shift in cloud storage and bring data to the fabric of networks. Intel is shifting its focus from enterprise servers to network fabrics that are upgradable and extensive and can support the data explosion brought on by IoT.
Article continues below advertisement
While connected devices, wireless infrastructure, and network storage are at the core of the 5G revolution, there's a need for real-time analytics of collected data. This has led to the emergence of deep learning, machine learning, perceptual computing, cognitive computing, visual computing, and virtual reality.
Competition gets tough
NVIDIA (NVDA) is at the forefront of deep learning and the development of autonomous cars. Qualcomm (QCOM) is at the forefront of developing 5G modems and wireless infrastructure. NVIDIA and Advanced Micro Devices (AMD) are at the forefront of virtual and augmented reality.
Intel has been a little slow to enter the market, and it now has to compete with strong players in every field. Hence, the company is resorting to mergers and acquisitions, divestitures, and partnerships to tap into the 5G revolution. We'll look into this in the next part of the series.