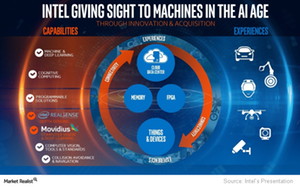 To Speed Up 5G Development, Intel Is Acquiring Startups
By Puja Tayal

Sep. 19 2016, Updated 8:04 a.m. ET
Intel paces technology development by acquiring startups 
Intel (INTC) has entered into complementary partnerships to develop and test 5G technologies. The company is partnering with customers and OEMS (other equipment manufacturer) and acquiring startups and smaller companies that have developed competitive technologies.
Intel entered the deep learning and AI (artificial intelligence) segment a bit late. NVIDIA (NVDA) is dominating this space with its general purpose GPUs (graphics processing unit). On the other hand, Google (GOOG) is using its custom TPUs (tensor processing unit) for its deep learning initiatives.
To increase its pace in this space, Intel recently acquired AI startup Nervana Systems. A few weeks after this acquisition, the chip giant announced another acquisition of low-power computer vision hardware maker Movidius.
Article continues below advertisement
About Movidius
Founded in 2006, Movidius has developed a low power, purpose-driven SoC (system-on-chip) called Myriad 2 for the application of deep learning. Google's TPUs and NVIDIA's GPUs can accelerate only one type of operation through ASICs (application specific integrated circuit). Myriad 2 is a programmable processor that can support various precision modes.
Movidius' Myriad 2 VPU (vision processing unit) can perform vision-related tasks such as gesture recognition and head tracking, and it can blend several video streams into an interactive VR (virtual reality) video. Due to its low-power SoC (system on chip), Myriad 2 can perform all these tasks in a power-constrained environment, thus making it apt for VR and AR (augmented reality) headsets and drones.
How does Movidius fit into Intel's strategy?
NVIDIA's GPUs are driving deep learning, but they're not flexible enough to support some aspects of neural network training on low precision, non-server-class devices. A neural network is trained on large frameworks such as NVIDIA's GPUs and Google's TPUs, and a trained network is prepared in a compressed form. This network is integrated into mobile devices to perform deep learning services.
Movidius's technology can support neural networks and is more focused on IoT devices than on mobile devices. This makes Movidius a perfect fit for Intel's interconnected strategy of bringing computer vision and machine learning from the data center to IoT devices through the cloud.
Intel plans to integrate Movidius's technology into its RealSense platform. The combination of Movidius's deep learning technology with RealSense's depth-processing technology will be apt for drones, robots, and VR and AR headsets.
While Intel is developing chip designs through partnerships and acquisitions, it's also looking to develop manufacturing technology by opening its foundries to outside chipmakers. We'll look into this strategy in the next part of the series.