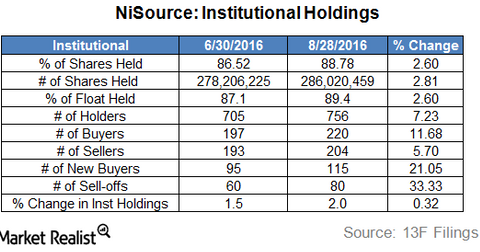 What Are Institutions Doing with Their NiSource Holdings?
By Vineet Kulkarni

Updated
NiSource: Institutional holdings
Let's have a look at institutional investors' holdings in NiSource (NI). Institutional investors increased their holdings in NI in the last two months.
Institutional investors' percentage of float held in NI rose by 2.6% from 86.5% on June 30, 2016, to 88.8% on August 28. Float refers to the number of shares available for trading.
Article continues below advertisement
Are institutions positive about NiSource?
In July and August 2016, NiSource's number of buyers rose by a huge 11.7%, while its number of sellers increased by nearly 6%. The number of new buyers increased by a robust 21%%, while sell-offs increased by 33%.
The number of institutional investors holding NiSource in the last two months has risen by 7% to 756. At the end of June 2016, the number of institutional investors holding NiSource was 705.
T. Rowe Price, BlackRock, and Deutsche Bank were a few of the top institutions holding NiSource as of August 28, 2016. They own 8%, 6%, and 5%, respectively, of NI's float.
Although NiSource offers a low-risk moderate return proposition for investors, it's trading at a significantly lower yield than peers. Its current yield of 2.7% is nearly 100 basis points lower than the yields of industry peers (IDU). While it has returned nearly 50% in the last one year, NiSource's returns in the future remain precarious. Interestingly, there could be renewed interest in low-business-risk companies such as NiSource among institutional investors, considering the growing uncertainty in broader markets (SPY).