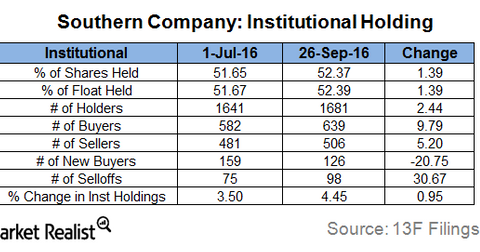 What Do Institutional Investors Think about Southern Company?
By Vineet Kulkarni

Updated
Institutional investor holdings
Institutional investors slightly increased their positions in Southern Company (SO) in the last couple of months. The percentage of float held in Southern Company by institutional investors rose 1.4% as of September 26, 2016, as compared to on July 1. The "float" of a company refers to the number of shares that are available for trading.
Article continues below advertisement
What does this mean?
The long position additions by institutional investors mostly depict bullishness on a stock. For SO, the number of buyers rose nearly 10%, while the number of sellers rose 5% in 3Q16. The number of new buyers fell by a huge ~21%, and the number of sell-offs surged more than 30%.
Notably, the percentage of float held by institutional investors in SO rose from 51.6% at the end of 2Q16 to 52.4% as of September 26, 2016. Vanguard, Blackrock, and State Street are the top three institutions holding Southern Company. They own 6.3%, 6%, and 4.7%, respectively, of SO's float.
Why Southern Company?
Southern Company's dividend yield is one of the highest in the sector. It also outperformed many regulated utility peers on the total return front in the last one year. The stock's rally of nearly 20% and a yield of 4.3% helped it achieve robust returns for investors. Regulated utilities (DUK) (XEL) may continue to see increased interest from institutional investors, as their stocks seem to be looking stronger.
In the next and final part, we'll discuss analyst recommendations and price targets for Southern Company going forward.