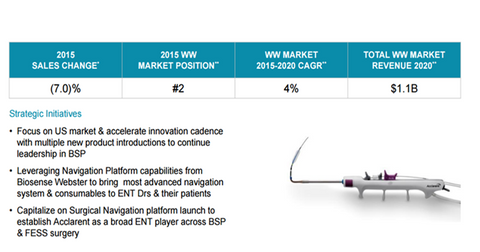 Inside Johnson & Johnson's Latest US Medical Device Launch
By Sarah Collins

Updated
Acclarent Aera launch
Acclarent, a subsidiary of Johnson & Johnson (JNJ), launched its Acclarent Aera system in the US on September 19, 2016. Acclarent Aera is a eustachian tube balloon dilation system used for the treatment of ETD (eustachian tube dysfunction). Approximately 1% of the adults suffer from ETD.
According to WebMD, "The eustachian tube is a narrow tube that connects the space behind the eardrum (the middle ear) with the back of the nose. ETD means that the eustachian tube is blocked or does not open properly. Air cannot then get into the middle ear. Therefore, the air pressure on the outer side of the eardrum becomes greater than the air pressure in the middle ear. This pushes the eardrum inward. The main symptom is muffled or dulled hearing. You may also have ear pain because the eardrum is tensed and stretched."
Article continues below advertisement
Aera was launched in Europe in September 2014 and has established its success in the European market. It is the first balloon dilation system approved by the FDA (US Food and Drug Administration) and is a minimally invasive treatment option. Other treatment options currently available focus on relieving symptoms.
Trial results
A randomized clinical trial of a population of 299 chronic ETD patients was carried out and reviewed by FDA. Around 52% of patients who underwent Aera system treatment reported positive results, whereas only 14% of the patients treated with conventional methods such as nasal spray displayed positive results.
For exposure to Johnson & Johnson, investors can invest in healthcare ETFs like the Health Care Select Sector SPDR Fund (XLV). XLV has approximately 11.7%, 4.3%, 1.9%, and 1.4% of its total holdings in Johnson & Johnson, Medtronic (MDT), Abbott Laboratories (ABT), and Becton Dickinson (BDX), respectively.