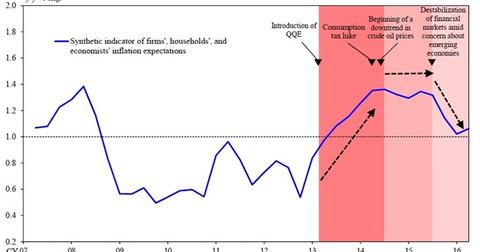 How Inflation Expectations Are Set in Japan
By David Ashworth

Sep. 29 2016, Published 9:21 a.m. ET
Inflation expectations rose after QQE
Although inflation has been nowhere close to the 2% target set by the Bank of Japan, the bank's governor, Haruhiko Kuroda, maintains that the QQE (quantitative and qualitative monetary easing) program was vital to raise inflation expectations. The graph below was part of the presentation he made to business leaders in Osaka on September 26, 2016. According to the graph, inflation expectations rose after the launch of the QQE program.
Kuroda noted that apart from inflation expectations, actual inflation readings also rose, with CPI (consumer price index) inflation rising to 1.5% in April 2014.
Article continues below advertisement
Global headwinds did some damage
Kuroda pointed out that due to global headwinds, inflation in Japan took a hit. Some of these headwinds were the sharp decline in crude oil prices (STO) (RDS.A) (BP) from mid-2014 and the slowdown in China since mid-2015. Domestic factors weren't far behind. The consumption tax increase in April 2014 hurt both economic activity and inflation so much that the second increase in the tax had to be postponed.
Global headwinds have also led to an appreciation in the yen, which hurt exports. The rise in the yen is also reflected in the performance of currency-hedged ETFs such as the iShares Currency Hedged MSCI Japan ETF (HEWJ) and the WisdomTree Japan Hedged Equity ETF (DXJ), which are in negative territory so far in 2016.
Article continues below advertisement
In Japan, the past influences the future
Kuroda observed that "the mechanism of formation of inflation expectations in Japan tends to be heavily influenced by the course of the past inflation rate." Termed as "adaptive mechanism," Kuroda pointed out that it plays a much bigger role in setting inflation expectations in Japan than in other nations.
What the adaptive mechanism means is that if inflation has failed to rise in the past, the Japanese people will consider that factual information as a base to form expectations about inflation going forward. They'll do this instead of buying the price stability argument of the central bank.
Kuroda emphasized that it's necessary that people look at a "forward-looking mechanism" in which they're convinced that observed inflation will move to the 2% target, even though it may fluctuate on its journey. A transition to this mechanism is seen as crucial in order to fan inflation expectations higher.
Kuroda moved on to talk about the yield curve. Let's look at that argument in the next part.