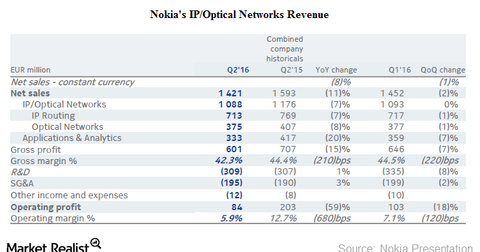 Nokia's IP Networks and Applications Business: Key Developments
By Adam Rogers

Updated
Nokia gaining traction with web-scale players
Nokia's IP Networks and Applications business consists of the IP/Optical and Applications and Analytics segments (or A&A). Nokia (NOK) has stated that the firm is "gaining momentum" with major web-scale players.
Nokia stated that a portion of its A&A business remains attached to mobile equipment, whose performance has been impacted by global mobile market conditions. In 2Q16, Nokia launched its new IoT (internet of things) platform, IMPACT, as well as a cloud-based solution for network signaling requirements known as the Nokia Dynamic Diameter Engine.
Article continues below advertisement
How did Nokia's IP Networks and Applications business perform in 2Q16?
Nokia's sales from its IP Networks and Applications business fell 11% YoY (year-over-year) in 2Q16. Sales in IP/Optical Networks fell 7% YoY, and sales in A&A segment fell 20% YoY in 2Q16. The gross margin in this business fell 210 basis points in 2Q16, whereas its operating margin fell by 680 basis points—particularly driven by lower fees.
Nokia is optimistic about its Optical portfolio and believes this segment will help expand its customer base among web-scale players. Nokia sees long-term growth and profit opportunities in the A&A segment and wants to create "a true software business with a stand-alone portfolio that can be scaled across multiple vertical markets."