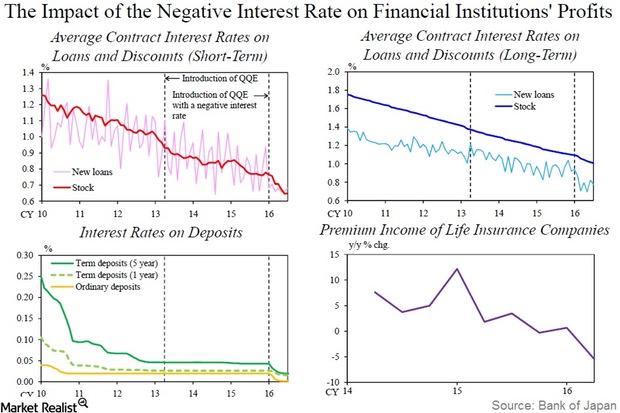 Monetary Easing and Financial Intermediation in Japan
By David Ashworth

Sep. 29 2016, Updated 12:04 p.m. ET
The impact of negative interest rates
Haruhiko Kuroda, governor of the Bank of Japan, talked about the Bank of Japan's Comprehensive Assessment of the QQE (quantitative and qualitative monetary easing) program. But he also discussed the impact of QQE on negative interest rates on profits of financial institutions. He said that the introduction of negative interest rates had given rise to concerns that with the already low level of interest rates, a fall in JGB (Japanese Government Bond) yields wouldn't lead to a decline in banks' lending rates.
Article continues below advertisement
However, the Bank of Japan's Comprehensive Assessment discovered that the pass-through of negative interest rates has been about the same as in earlier rate cuts. But since deposit rates have declined at a slower pace than lending rates, it has eaten into profits of financial institutions (MTU) (IX) (MFG).
The graphs below, taken from Kuroda's presentation, show that lending rates have fallen more quickly after negative rates were introduced.
Bank of Japan to take notice
Kuroda noted that the sharp fall in long-term and super long-term rates adversely impacts the return on insurance and pension products, apart from raising companies' pension benefit commitments. Although this may have little impact on Japan's economic activity, it can "cause uncertainty regarding the sustainability of the financial functioning in a broad sense" by denting consumer and business confidence.
Maintaining confidence is key to raising inflation expectations, and the Bank of Japan intends to control the yield curve in order to guide inflation expectations. Because of this, Kuroda said, the central bank should take into account these points "in facilitating the formation of an appropriate yield curve."
Apart from raising inflation expectations, a rise in domestic consumer confidence may also encourage international investors looking to invest in Japanese equities (JPN) (SCIJ).
After discussing the Comprehensive Assessment of QQE, Kuroda moved on to the new policy framework of QQE with yield curve control. Let's look at that in the next part.