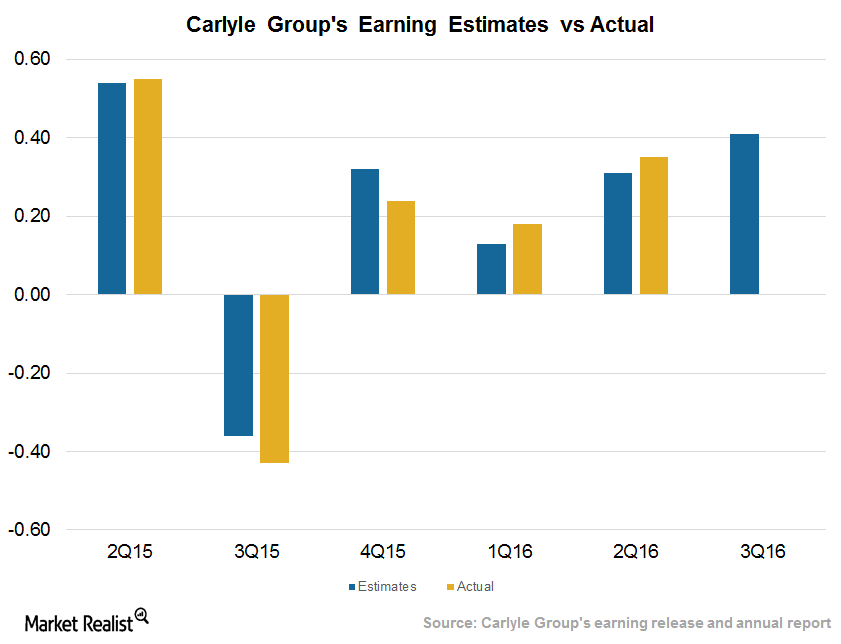 How Will Carlyle Group Perform in 3Q16?
By Robert Karr

Dec. 4 2020, Updated 10:53 a.m. ET
Rising equities
Carlyle Group (CG) has deployed a record amount of capital since the last quarter of 2015 in order to take advantage of falling equities and distressed credit pricing to stem the decline in its portfolio losses. In the current global equity spike, valuations of holding companies across the alternative asset management industry have risen and are expected to contribute to strong results in the September quarter. Carlyle expects earnings per share (or EPS) of $0.44 in 3Q. For the full year, analysts have revised earnings expectations northwards to $1.44 with an implied price-to-earnings of 10.8x.
Article continues below advertisement
Interest rate impact
Alternative asset managers' earnings have been negatively affected by rising interest rates. However, the Fed is going slow in raising interest rates with one rate hike of 0.25% expected by the end of the current year. If the markets don't see any major trigger for a downfall, Carlyle could see improved earnings in the current as well as the next quarter. Carlyle has seen its improved operating performance over the past few quarters backed by its private equity and credit division. In the June quarter, the company posted distributable income on a pre-tax basis of $288 million and economic net income of $158 million.
Alternative managers attempt to outperform the major indexes such as the S&P 500 (IVV) instead of replicating returns, as is the case with passive fund management. Active fund management generally requires a performance fee above a certain fixed fee for managing funds.
Carlyle Group's revenue fell 29% in the last fiscal year. Blackstone's (BX) revenue fell 40%, KKR's (KKR) revenue fell 18.3%, and Apollo Global Management's revenue (APO) fell 59.6%.
An alternative investor
Carlyle Group (CG) advises investment funds and vehicles that invest across a range of asset classes, geographies, and investment strategies to generate returns for its investors or limited partners. The company manages money for more than 1,650 active carry fund investors from 78 countries.
In this series, we'll discuss Carlyle Group's assets under management, carry fund valuations, dividends, and valuations. Let's start with its asset accumulation.