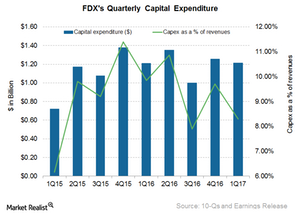 How FedEx Is Modernizing Its Aircraft Fleet
By Samuel Prince

Sep. 23 2016, Updated 10:29 a.m. ET
FedEx's capex in fiscal 2017
In the previous part, we looked FedEx Corporation's (FDX) overall and segmental operating margins. Here, we'll review the company's spending on capital assets and plans for fiscal 2017.
For fiscal 1Q17, FedEx incurred a cap of $1.2 billion. This translates into 8.3% of the fiscal 1Q17 total revenues of $14.6 billion.
The express service delivery business model requires a huge amount of capital. This becomes more important when taking into account its fleet of aircraft as well as ground operation equipment.
Article continues below advertisement
FedEx's fleet modernization drive
FedEx (FDX) Express's overall aircraft fleet has decreased from 650 aircraft in 2014 to 643 aircraft in 2016. The company is expecting delivery of 12 Boeing (BA) 767F aircraft in fiscal 2017.
However, there are 16 Boeing MD-10s and MD-11s that are set for lease expiry or will be retired in the same fiscal year. This should further reduce the number of aircraft in FDX's fleet to 639. In 2021, a net 14 aircraft are set to retire or see their leases expire.
Capex outlook
For fiscal 2017, FedEx expects to spend $5.6 billion on capital assets. This includes the proposed integration capex of $100.0 million required for TNT in fiscal 2017. The company expects to fund the proposed capital investments from its cash flow from operations. The fiscal 2017 proposed capital expenditure includes investment in network expansion at FedEx Ground in view of the e-commerce boom.
FedEx's desired range of capital expenditure is 6%–8%. However, with the refleeting exercise undertaken by FDX along with its TNT integration, the company expects higher spending on capital assets in the years to come.
Peer group capital spending 
FedEx (FDX) must spend roughly 8% of revenues on capital asset acquisition. However, its close rival United Parcel Service (UPS) spent only 4.3% of revenues on capital asset acquisition. This is mainly due to relatively young aircraft in the company's fleet.
Let's look at capital spending as a percentage of revenue by FDX's peers in 2015. This will help us gauge the growth prospects of these carriers.
Investors who prefer indirect investment in the transportation sector can consider the First Trust Industrials-Producer Durables AlphaDEX ETF (FXR). Major US airlines and railroads make up 12.8% and 6.4%, respectively, of FXR.
In the next part, we'll look at FedEx's views on its prized possession, TNT Express.