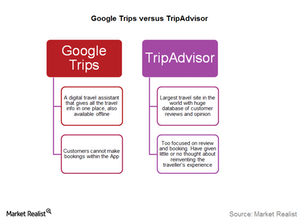 How Does Google Trips Compare to TripAdvisor?
By Ally Schmidt

Sep. 23 2016, Updated 11:04 a.m. ET
Google Trips
As it's designed to be a digital travel assistant, Google Trips (GOOGL) aims to solve one of the major pain points for travelers today—having all their travel info in one place. And Google's many years of customer behavior data will likely help customers plan trips around the world's most popular tourist destinations while tailoring information to the customers' particular needs. Most importantly, customers can access Google Trips' data offline.
That said, Google's Trips app falls short of one of the crucial steps between planning and the actual trip—bookings. Customers cannot make bookings within the App and will need to go to competitors like Expedia (EXPE), Priceline (PCLN), and TripAdvisor (TRIP).
Article continues below advertisement
TripAdvisor
TripAdvisor, of course, has a huge database of customer reviews and opinions and is now one of the largest travel sites in the world, with 350 million monthly unique users and 385 million reviews.
According to a commissioned survey conducted by PhoCusWright, more than 50% of respondents didn't want to make a booking until they had read reviews and found out what other travelers thought about a property. The survey found that ~67% of respondents checked TripAdvisor at least a few times per month. It also found that hotel guests read about six to 12 reviews before making a reservation.
Users want to know the first-hand experience of other customers with no vested interests—not just the expert opinions. They also like to check live photos instead of the photoshopped images. This stickiness of user behavior is perhaps one of the biggest advantages that TripAdvisor has.
However, at times TripAdvisor seems overly focused on review and booking. Many reviewers have given little or no thought toward reinventing a traveler's experience, which leaves this space open to others.
While Google Trips has some shortcomings and needs more polishing, it has the potential—as TripAdvisor CEO Steve Kaufer himself said—to be a "serious threat" to TRIP. That said, what's to stop TripAdvisor from developing a solution similar to Google and adding to the customer experience? TripAdvisor investors would likely be happy if it tried.
Remember, investors can get exposure to OTAs (online travel agents) by investing in the Consumer Discretionary Select Sector SPDR Fund (XLY).
Continue to the next and final part for a look at the investor reaction to Google's launch of its Trips app.