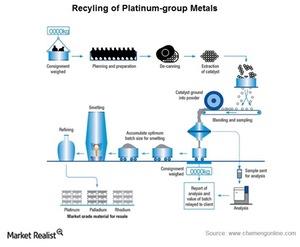 How Could Recycled Platinum Group Metals Impact Miners?
By Meera Shawn

Updated
Fall from an all-time high
During the past month, platinum has been weaker than the other three precious metals. Whereas gold, silver, and palladium only fell 2.2%, 2.3%, and 8.4% respectively, platinum fell 8.4%.
Price changes in this industry can also be impacted by the supply of these metals, and platinum supply can be significantly impacted by metal recycling.
Platinum, which is most commonly used in jewelry and as an emissions scrubber in vehicle catalytic converters, has seen prices rise 15% so far this year from its seven-year low of just over $800 per ounce in January. But demand for platinum has remained weak due to recycling, ample above-ground stock, and slower growth in China. Since their all-time high of ~$2,250 per ounce in March 2008, platinum prices have actually plunged.
Article continues below advertisement
Recycling from autocatalyst
When an automobile has reached the end of its useful life, the platinum group metals contained within the catalytic converter can be recycled. Making products from recycled metals uses less energy, reduces carbon emissions, and uses less water than producing with raw materials. Thus, falling demand could negatively impact the mining industry.
Still, the Sprott Gold Miners (SGDM) and the iShares MSCI Global Gold Fund (RING) have risen 86% and 96%, respectively, year-to-date due to the metal gains. The mining equities of Franco-Nevada (FNV), RandGold Resources (GOLD), Yamana Gold (AUY), and Pan American Silver (PAAS) have also risen significantly in 2016 due to haven bids.