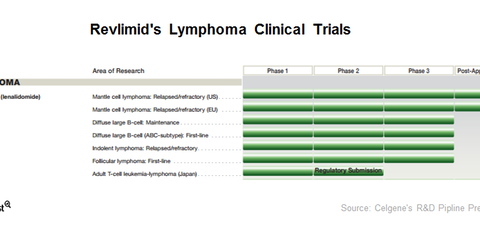 How Can Revlimid Eventually Lead the Lymphoma Space?
By Jillian Dabney

Sep. 8 2016, Updated 7:04 a.m. ET
Update on Revlimid's non-Hodgkin lymphoma clinical trials
Celgene (CELG) is investigating Revlimid for several hematological malignancies such as multiple myeloma (or MM), lymphomas, chronic lymphocytic leukemia (or CLL), and myelodysplastic syndromes (or MDS). By 2020, CELG expects Revlimid's sales from the lymphoma space to total $1.0 billion–$1.5 billion.
Revlimid competes with Merck's (MRK) Keytruda, Amgen's (AMGN) Kyprolis, and AbbVie and Johnson & Johnson's (JNJ) Imbruvica. For more details on the drug's opportunities, please read Revlimid Is Expected to Become a Major Lymphoma Drug by 2020.
RELEVANCE, AUGMENT, MAGNIFY, ROBUST, and REMARC are the various clinical trials that target multiple areas of non-Hodgkin lymphoma (or NHL). The REMARC study investigated Revlimid as a maintenance therapy in diffuse large B-cell lymphoma (or DLBCL).
As there wasn't any benefit to the Revlimid arm, Celgene dropped the plan to pursue the approval for the same indication.
Article continues below advertisement
Summary of lymphoma studies
RELEVANCE, AUGMENT, and MAGNIFY are combination studies with rituximab where RELEVANCE targets previously untreated follicular lymphoma. This is a first-line therapy for the disease.
AUGMENT is evaluation in relapsed or refractory follicular and marginal zone lymphoma. MAGNIFY is a combination study in relapsed or refractory follicular, marginal zone, and mantle cell lymphoma. ROBUST is a combination study with R-CHOP in previously untreated ABC-subtype DLBCL.
RELEVANCE data is expected by the first half of 2017, and AUGMENT data could be available by the second half of 2017.
During 2Q16, Celgene filed an application for approval to PMDA (Pharmaceuticals and Medical Devices Agency) for the indication of adult T-cell leukemia/lymphoma (or ATLL) in Japan.
If you invest in the Health Care SPDR ETF (XLV), you can enjoy exposure to Celgene. XLV holds ~2.9% of its total portfolio in Celgene.
Continue to the next part for details on the possible threats to the blockbuster drug.